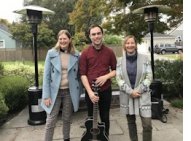 Dear Alki UCC,

Last weekend was such a joy. On Saturday, Rabbi Sabine and I were honored to offer blessings to many sweet animal companions of Alki UCC/KHN congregants and our wonderful neighbors. Stephen's music cultivated such a fun and welcome atmosphere.

Can't wait to do it again next year!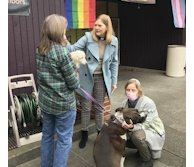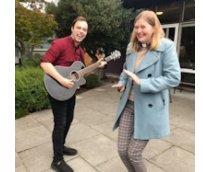 On Poetry Sunday, the invitation was to bring poems to read, and wow did the congregation bring it! Ten people came forward to share a wide diversity of poems, some humorous, some philosophical, some justice-focused, some poignant and tender.

If you missed it live, you can still listen to the recording linked here. If you weren't available to read a poem this time, we'll do it again!

In hope,
Pastor Emily



PS: We've had many requests for a compilation


of our selections from Poetry Sunday.


If you shared a poem, would you please

Save the Date!

Documentary Film on Immigration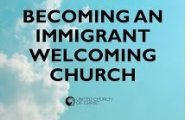 Wednesday, December 6
at 6:30 pm
Alki UCC

The Immigrant Welcoming Congregation Core Groups of Alki UCC and Fauntleroy UCC are co-presenting a documentary film night in Anderson Hall at Alki UCC on Wednesday, December 6 at 6:30 pm. The evening includes popcorn and facilitated discussion. More info soon!

Tuesday Bible Study Ongoing through June
Registration Open Now!
Balance Due: The Price the Duwamish Paid for Seattle's Development
Sundays at 12:30 beginning this week
October 29, November 5 & 12
In-Person Only at Admiral Church
4320 SW Hill Street
admiralchurch.org

The folks at Admiral Church invite you to join in a three-week study of the honest history of Seattle's colonization and its impacts on the land, water, and people of the Inside Passage.

Guiding beliefs and historical milestones:

• The Earth is the Lord's, and all that is on it.
• From time immemorial indigenous peoples have used the shores and waterways of Puget Sound to sustain vibrant communities.
• White settlers and colonizers came to this land with the goal of American expansion, removing indigenous peoples from their homes and establishing Seattle as a city without natives.

Having inherited this legacy and title to this land from our ancestors, we commit ourselves to learning this difficult history so that the gift we give to those that come after us is more inclusive, more sustainable, and more vibrant.

We give thanks to God for the land, the water, and the Duwamish peoples, who were and are among us here today.

Our 100 Douglas Fir trees are growing!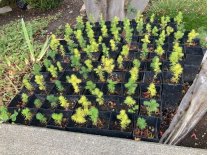 Ever wanted to plant a tree? You can sign up to participate in an exclusive "Grow it Forward" planting party this Saturday, Oct 28 from 10:00 am to 1:00 pm.





Organized and sponsored by Mid Sound Fisheries Enhancement Group, the event will be on the Green River in Fenster Nature Park in Auburn (about 20 miles from West Seattle). We will be planting two-year old seedlings provided by NW micro-nursery hosts.

Information and registration linked here.


Last Spring our church family created a "Grow It Forward" micro-nursery. We planted 100 Douglas Fir seedlings, which have been happily growing in the corner of our front patio area under the Japanese Maple!

We took on the project through Grow It Forward Restoration, a nonprofit working with gardeners throughout the greater Seattle area who plant and tend native tree and shrub seedlings for habitat restoration organizations to use in restoring critical habitats. Our first batch of seedlings was replanted last year along the Skagit River near Rockport, and our current batch will be planted in two years as part of on-going riverbank restoration to benefit salmon by providing shade and natural water navigation. Exciting!

And check out the Grow it Forward website for info on creating and tending a micro-nursery at your own home! It only takes 4' x 4' of land.

Thank you for your interest in helping keep our planet green! We're happy to answer any questions you may have!

— Julia C for the Alki UCC Outreach Team

Are you prepared for an Earthquake ...

... or other natural disaster???





Two quakes have hit the region in the past several weeks.





A simple start to get prepared is to know the location of your West Seattle Emergency Communications Hub"



The Emergency Communication Hubs are the initial gathering locations for information and resources.


Special Prayers for Jackie S (Cinda's mother) facing melanoma cancer at age 94

For those grieving the recent death of a loved one:
The Alki UCC community, family and friends of Wanda D, family and friends of Julia C's mother Molly, the Alki UCC community, family and friends of Verona R, Diane J and family on the death of her father Thomas G, family and friends of longtime Alki UCC member Jan C, family and friends of UCC minister Rev. Bobbi Virta, family and friends of longtime Alki UCC member Anne S, Liese F and family, Jeff D and family, the Alki UCC community and friends/family of Nick Tobler-Wolff, Todd S

and family, Patty M



Recent hospitalization, illness and other concerns:
Rev. Joan Carter, Dan K, Alki UCC's Peruvian Families Seeking Asylum, Shannon P, former Alki UCC member Dawn N, former members Davney and Bob S and Davney's mom Suzanne H, Shannon P's Florida family: Bill, Gail, Mary Ann & Bob; Julia C's friend Chelsea W, Denis B, Don & Imy P and family, Patty M, Jane C and her family, Sue B's brother Tom and his wife Carla, Julia C's friend Jessie T & family, Amy Y's mother Corlene, Jeff D's brother Andy, former Alki UCC member Mark H, Sue B's friends Mary and Louise, Cindy, Jeff and Kirstin's sister-in-law Sue, Kirstin D, Shannon P's father Rev. Dr. Bill, Claire F, Kirstin D's father



For homebound members/friends of Alki UCC: Doris C


Wider World: Prayers for all those affected by the coronavirus outbreak; all those suffering from PTSD in the military and around the world; for all those affected by misguided immigration policies; prayers for fewer guns, for all victims and those affected by gun violence; victims and survivors of extremist violence around the world; migrants seeking refuge around the world, and for those who are trying to help them. The rest of the missing schoolgirls kidnapped by Boko Haram, who remain in our hearts as long as they remain missing. The hungry and homeless, the ill and the addicted, the lost and the lonely; the unemployed.

Worship this Sunday,

October 29

at 10:00 am

Twenty-Second Sunday after Pentecost


Rev. Emily Tanis-Likkel



Sermon:
"With Your Whole Self"

Scripture Reading:
Matthew 22:34-46



Liturgist:


Cinda S



Music Director:


Stephen Anthony Rawson





Music Highlights:
Prelude in E Major
Johann Sebastian Bach
Awake, My Soul, Stretch Every Nerve
George Frideric Handel
Your Love is Amazing Brenton Brown and Brian Doerkse
#11, Bring Many Names
Brian Wren and Carlton Young
#456, More Love to You, O Christ
Elizabeth Prentiss and William Doane
I'm Gonna Live So God Can Use Me
African-American Spiritual

Photo by Roman Kraft, Unsplash






Join us either in-person (masks recommended) or virtually via Zoom.





If you're already registered for Sunday worship on Zoom, use your personal link. If not, welcome! Register here.

King County Reports Increased COVID Hospitalizations




Free COVID-19 Tests


Every U.S. household can now place an order to receive four more free COVID-19 rapid tests from COVIDTests.gov.



New COVID-19 Vaccine


Everyone over six months old, especially older adults and people with high risk conditions, should get the new COVID-19 vaccine.

For vaccination appointments now check Vaccines.gov for pharmacies and clinics near you.


Sunday Worship Registration

If you've already registered on Zoom, just use your personal link. If not, welcome! You can register here.
When you register, please use your first/last name plus your email.
Sunday Worship Videos Posted on YouTube

S
unday Worship recordings now online!
Check out Alki UCC's very own
YouTube channel.


For secure, online giving through Give Lively, click the button,

OR, send your check,

made out to "Alki

UCC," to:




6115 SW Hinds,




Seattle, WA 98116



Church news/calendar updates
at alkiucc.org.