Classical Conferences and Meetings in 2016

2016

ICC—Illinois Classical Conference
October 7–9, 2016
Adlai E. Stevenson High School
Lincolnshire, IL
Representative: Laurel Draper

OCC-Ohio Classical Conference 2016 Annual Meeting
October 7-8, 2016
Columbus Academy, Gahanna, OH

TFLA—Texas Foreign Language Association Fall Conference
October 13–15, 2016
Renaissance Austin Hotel
Austin, TX
Representatives: Allan Bolchazy, Phil Neill, and Joni Dodson

CAAS—Classical Association of the Atlantic States
October 20–22, 2016
The Heldrich Conference Center
New Brunswick, NJ
Representative: Donald Sprague
Presentations:
Friday, October 21, 2016
"Gendering Roman Notions of Female Leadership: The Binary and Beyond"
Judith P. Hallett, coauthor of A Roman Women Reader: Selections from the Second Century BCE through Second Century CE

Saturday, October 22, 2016
"Misappropriating Feminism: Strategies, Costs, and Remedies"
Judith P. Hallett

CAMWS SS—The Classical Association of the Middle West and South Southern Section
October 27–29, 2016
Courtyard by Marriott-Decatur and Conference Center at the invitation of Emory University
Decatur, GA
Representative: Bridget Dean

CAES—Classical Association of the Empire State
October 28–29, 2016
Union College
Schenectady, NY
Representative: Donald Sprague
Presentations: [times TBA]
"From Salius to Augur: Julius Caesar's Priestly Career"
Hans-Friedrich Mueller, author of Caesar: Selections from his Commentarii De Bello Gallico and coauthor of Caesar: A LEGAMUS Transitional Reader



"Reading Strategies: Scaffolding Caesar and Other Authors"


David Pellegrino, coauthor of Caesar & Vergil AP® Vocabulary Cards; author of Catullus Vocabulary Cards for AP® Selections and Cicero and Horace Vocabulary Frequency Lists for AP® Selections



Friday Banquet Address




"Was Caesar a Weirdo"


W. Jeffrey Tatum, author of A Caesar Reader: Selections from Bellum Gallicum and Bellum Civile, and from Caesar's Letters, Speeches, and Poetry


TCA—Texas Classical Association
October 28–29, 2016
Baylor University
Waco, TX
Representative: Rose Williams

ACTFL—American Council on the Teaching of Foreign Languages
November 18–20, 2016
Boston Convention and Exhibition Center
Boston, MA
Representatives: Allan Bolchazy and Donald Sprague


VJCL-Virginia Junior Classical League 2016 Convention
November 20-21, 2016
The Greater Richmond Convention Center
Richmond, VA
Representative: Laurel Draper



2017


AIA/SCS—Archaeological Institue of America and Society for Classical Studies Joint Annual Meeting
January 5–8, 2017
Sheraton Centre Toronto Hotel
Toronto, ON

CANE—Classical Association of New England
March 17–18, 2017
Philips Exeter Academy
Exeter, NH

The 52nd International Congress on Medieval Studies
May 11–14, 2017
Western Michgan University
Kalamazoo, MI
Representatives: Adam Velez and Laurel Draper

ACL—American Classical League
70th Annual Institute
June 29–July 1, 2017
Grand Valley State University
Grand Rapids, MI

NJCL - National Junior Classical League


July 24–29, 2017




Troy University




Troy, AL



Judith Peller Hallett, classics professor at the University of Maryland, seized the moment and photographed this restaurant sign in Stockholm, Sweden.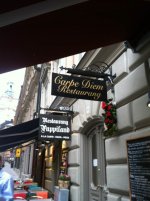 ---
Carpe Librum
Linda Sharrard Montross, co-chair of the National Latin Exam, caught this wordplay on my favorite Horatian (Quintus Horatius Flaccus) quote! Linda was on her way to the exhibit "The Greeks: Agamemnon to Alexander the Great" at the National Geographic Museum in Washington, DC, until October 10 and then returning to Greece.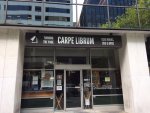 ---
You'll probably want a copy of the poster for your classroom!
---
Flashmob for Carmina Burana

Thanks to Cathy Favreau of the Rivers School in Weston, MA, who had posted this wonderful flashmob on Facebook.
---
Marco Gutierrez, who warned that more Mexican immigrations would result in "taco trucks on every corner," was called a "culinary Cassandra" in Catherine Rampell's op-ed piece published in the Chicago Tribune.


Bolchazy-Carducci Publishers salutes former Latin teacher Martha G. Abbott, who serves as executive director of the American Council on the Teaching of Foreign Language, on her appointment by President Barack Obama to the National Security Education Board. To read more, click.

Bolchazy-Carducci Publishers provides eTextbooks on a variety of eBook platforms. Bolchazy-Carducci textbooks are available through VitalSource,

GooglePlay

,

Chegg

, Copia, RedShelf, Adams Book, Follett,

MBSDirect Digital

, and ESCO. Each eBook platform offers a variety of tools to enhance the learning process. eBooks have the same content as our traditional books in print.
eBooks are purchased from the eBook provider. For direct links to purchase Bolchazy-Carducci eTextbooks, visit the title's product page on Bolchazy.com. Just above the product description there is a list of the eTextbook providers and a direct link to purchase the eTextbook. Some eBook providers sell directly to schools—check with your school to make these purchases.
You can read eBooks on a Mac, PC, iPhone, iPad, Android, or a variety of eReaders. Review the eBook providers specifications.
The eyeVocab software leverages human memory for distinctive affective images* presented in isolation to radically improve the speed, depth, and permanence of second language vocabulary acquisition. Images are drawn from classical art, both western and eastern, from photojournalism and historical photography, great book illustration, and other sources.

*Learn how images are chosen.

Far more than a set of electronic flashcards, the multimodal vocabulary program facilitates a significantly deeper learning and retention. Students will readily master the frequent Vergil and Caesar vocabulary for the AP® Latin Exam and thereby devote far more of their study time and energy to reading and discussing De Bello Gallico and the Aeneid.

eyeVocab programs correspond to the following B-C books.

Caesar: Selections from his Commentarii De Bello Gallico
(Mueller) (218 words)

Vergil's Aeneid: Selected Readings from Books 1, 2, 4, and 6
(Boyd) (162 words)



Vergil's Aeneid: Books I–VI


(Pharr) (292 words)

Latin for the New Millennium Level 1

(423 words)





Introductory rate for each of the AP® Latin programs is $14.95. The LNM 1 and LNM 2 introductory rate is $24.95 per program. For site licenses, contact Miles Becker at sales@eyeVocab.com.




Click on each title to learn more.
The Pompeiiana Newsletter created and edited by Bernard Barcio ran from 1974 through 2003. The newsletter offered a place for Latin students to publish comics, stories, games, and articles, and was a beloved resource for Latin teachers. In 2008, Barcio granted Bolchazy-Carducci Publishers the rights for all of the Pompeiiana Newsletter. B-C is proud to serve as curator for this archive and has made the issues available for teachers, students, and friends of the classics. Check out http://pompeiiana.blogspot.com/
Each fall, Bolchazy-Carducci mails its Roman Calendar to Latin teachers across the nation. If you're not on that mailing list, send a note TODAY to info@bolchazy.com. Put Roman Calendar in the subject line and provide us the USPS address to which you wish the calendar to be sent. The calendar is also available in a digital format.
Preview Bolchazy-Carducci Titles

Preview Bolchazy-Carducci titles before you purchase using Google Preview.
---

Downloadable Products
iPodius - Bolchazy-Carducci Publishers online shop for: audio, software, video, and a treasure trove of teacher-created materials in the Agora.
---
BCP Facebook Fan Page
Become a FAN of Bolchazy-Carducci Publishers, visit our Facebook Fan page for the latest news from BCP.
---
BCP Blog
Visit the BCPublishers Blog for BCP news and information.
Check out What Makes The Other Middle Ages an "Other" Text?
---
BCPublishers on Twitter
Follow us on Twitter

---
AP® is a trademark registered and/or owned by the College Board, which was not involved in the production of, and does not endorse, this site.
These products have been developed independently from and are not endorsed by the International Baccalaureate (IB).
This issue we welcome back Lynne West and her monthly "Tech Tip." Lynne took a well- deserved break for the summer after a wonderful semester studying second language acquisition in Groningen, Netherlands, as a Fulbright Scholar.

Mea maxima culpa! If you missed Marie Bolchazy's monthly "Book Buzz" in the August issue, know that it was totally my lapsus mentis! It had been read and proofed but I neglected to cut and paste it into the final version of the newsletter. Malum meum!

By now even our teacher friends on the East Coast have commenced their school year. All of us at Bolchazy-Carducci Publishers wish you a great year and remind you that we're here to serve you.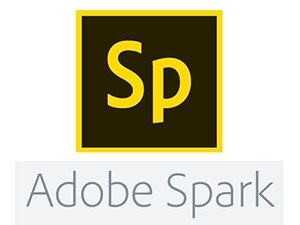 In the spring, I read a blog post about a free online tool called Adobe Spark. I was very interested in what I read and couldn't wait to try it out. Spark gives the user the tools to create three different products: a post, a page, or a video. Up to now, I've checked out the page creation tool and am really impressed with it. The page creation tool enables the user to develop a responsive and dynamic webpage enhanced by a number of interesting features. It is easy to add headlines, text blocks, images, web links, video clips, and galleries. The user interface is nicely designed and it really couldn't be simpler to create a very polished and sophisticated finished product. The great examples on the Adobe Spark website will get you thinking about possible classroom applications.
I am excited to use it in a couple of different ways with my students. I think it's the perfect tool for students to gather together their research on a particular topic and share their learning with both me and their classmates. Each page generated using Adobe Spark has a unique URL, so "collecting" these digital assignments is really straightforward. I'm also looking forward to the mythology projects that my students will create. We are currently reading selections of Ovid's Metamorphoses and, after reading a few sections together, students will be selecting a myth to read in small groups. Each group will use Adobe Spark to create a page that tells their story enriched with images, art, and background information. To learn more about Adobe Spark, visit spark.adobe.com.
Lynne West
Bellarmine Jesuit College Prep
San Jose, CA

Living with a Dead Language
At a mature age, Patty decided to start studying Latin. This book is about her journey and insights. She struggled to learn Latin and regretted her difficulty with memorizing vocabulary, but she also enjoyed the process. One of her instructors had students write jokes in Latin. She noted what fun her class had as they changed Caesar's famous statement to vidi, vici, veni (I saw, I conquered, I came).
Be ready for her political bias. For example, she notes that abecedarians who believed that learning only got in the way of God's truth are still alive and known as "creationists, climate change deniers, Fox News watchers, and much of the Republican Party."
What a pleasure it was to encounter the names of Latinists who have published and worked with Bolchazy-Carducci as I read this book: Terry Tunberg and Milena Minkova, the Latin for the New Millennium series; Anna Andresian, the grammar review Looking at Latin; and Nancy Llewellyn, who did some recording for us. In addition, I enjoyed seeing the attention Patty paid such Latinists and organizations as Mary Beard, Jason Pedicone and the Paideia Institute, and Father Reginald Foster. (With regard to Father Foster, I recall getting thank-you post cards for the complimentary books we sent him. The cards were beautifully handwritten—the ink changing color every few words. I'd know that a post card was from him from across the room. I also appreciate that he required all of his students to use Gildersleeve's grammar, a book we publish.)
Reading this book was a treat for me. I love that Patty starts each chapter with a quote. Some of my favorites are the contrasting quotes found on page 1: Cato the Elder, "Grasp the topic; the words will follow," and Umberto Eco, "Grasp the words; the topic will follow." Also quite intriguing is the Milosz quote, "Language is the only homeland." And consider the quote from Juvenal, "The incurable itch to write, independent of having anything to say." I also was excited to see Basil Gildersleeve's quote, "It is astonishing how much enjoyment one can get out of a language that one understands imperfectly." Other notable quotes were from T.S. Elliot, Pliny the Younger, Seneca, Cicero, and Augustus.
Like Patty, I am a word lover. The book features illustrations of little houses consisting of words. She intrigued me right away with her house of -ids: fervid, flaccid, fluid, gravid, etc. She is a good writer and has a way with words. Her analogy comparing the ablative absolute with a no-fault divorce, this time from the main sentence, is just one example of her creativity.
However, she notes that Latin doesn't help with Scrabble. My late husband Lou (Ladislaus Bolchazy, PhD) also used to complain that his Latin didn't help him when he played Scrabble with me. His comment was that I knew more four-letter words than he did, and that was why I won the games.
Be prepared—Patty does her own translations and doesn't expurgate them. Similarly, she fully plumbs the sexual connotations, innuendos, and nuances of Latin literature, especially Catullus and the other poets.
Patty also discusses the flexibility of Latin. Since word order is not fixed in Latin, there are rhetorical devices available in Latin that are not as readily available in English. I refer the reader to LeaAnn Osburn's marvelous essay—on why it's valuable to read Latin in the original rather than in translation.
One additional comment concerns Catullus's poem 101 on the death of his brother. The last line of the poem ends with, ". . . ave atque vale" (hail and farewell). I have included this quote on my husband's tombstone. He would have loved it.
As you can surmise from my review of Patty's book, I wholeheartedly recommend it, especially for Latinists and those who have an interest in Latin. For such folks, this is a fascinating read.
Marie Carducci Bolchazy, EdD
President, Bolchazy-Carducci Publishers
Resources & Teaching Tips

√ A New Testament Pericope Lesson
As promised in the August eLitterae in which we published an interview with Dale Grote, author of The Vulgate of Mark with the Synoptic Parallels, we provide a lesson for your class. For a little change of pace, Dale Grote has graciously written a special set of instructions for this excerpt from his new book The Vulgate of Mark with the Synoptic Parallels. While there is no companion teacher's guide for the text, its notes and vocabulary make it very accessible for high school students who have covered a good chunk of Latin grammar. Teachers using this text can readily rework these discussion items for other selections from the text.
Recent research offers explanation as to why the Romans were cavity-free.
This video from Smithsonian Magazine discusses the vegetarian diet of Rome's gladiators.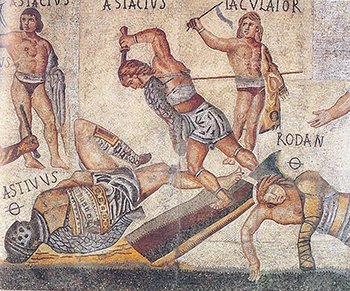 Famous mosaic at the Villa Borghese depicts a retiarius attacking his downed opponent, a secutor, with a dagger. Public Domain courtesy of Wikimedia Commons.

Linguistics and genetics provide some clues to the origin of the Etruscans.
Here's the answer to that perennial student question "How do we know what Latin sounded like?"
To celebrate the diamond anniversary of the British Invasion—and we're not talking Caesar—share this with your students.
√ Ann Patty


This issue's "Book Buzz" reviews Ann Patty's Living with a Dead Language. Here, Patty shares some interesting Latin sayings.
Fall 2016 Schedule
Webinar Registration Form
Tuesday, October 4, 2016 6:00–7:00 pm ET


Playing Around with Plautus


Presenter: Catherine Martin, Canterbury School, Fort Wayne, IN

This webinar will give participants an overview of how two scenes from Plautus's Pseudolus (the play that was the basis for A Funny Thing Happened on the Way to the Forum) can be used with all levels of Latin. The strategies used will be applicable to other works as well. Martin will also provide pertinent background on Plautus, Roman comedy, and ancient drama in performance.



Tuesday, November 1, 2016 6:00–7:00 PM ET


Latin for the New Millennium: Using the Aural/Oral Component
Presenters: Milena Minkova and Terence Tunberg, Professors of Classics, University of Kentucky, Lexington, KY

Let two accomplished educators and living Latin enthusiasts gently walk you through the aural/oral opportunities presented by Latin for the New Millennium, Levels 1 and 2. Coauthors, Drs. Minkova and Tunberg, will set you at ease as they provide various suggestions and strategies for implementing or enhancing the spoken Latin component of your classes. They will share with you the bounty of aural/oral activities and exercises in the LNM Teacher Manuals and demonstrate how teacher-friendly they are!


Tuesday, November 8, 2016 6:00–7:00 PM ET




Ease the Transition to Reading Unadapted Latin with the Latin of the New Testament


Presenter: Dale A. Grote, Associate Professor of Classics, University of North Carolina at Charlotte

Professor Grote will share his experience using the Latin of the New Testament as an ideal vehicle for building student confidence and success in reading Latin. Dr. Grote will present several pericopes from his newly published The Vulgate of Mark with the Synoptic Parallels (Bolchazy-Carducci, 2016) to model introducing students to this very accessible Latin and to a historical-textual approach to reading and interpreting these texts.
Tuesday, November 15, 2016 6:00–7:00 PM ET
From Salius to Augur: Julius Caesar's Priestly Career
Presenter: Hans-Friedrich Mueller, Thomas B. Lamont Professor of Ancient & Modern Literature at Union College, NY

Salius, Flamen Dialis, Pontifex, Pontifex Maximus, Augur. These are not the offices that we generally associate with Caesar's cursus honorum. A single issue of coin attests to one priesthood. Scholars famously regard another as a potentially crippling impediment. Rome's leading statesmen routinely coveted the others. We shall in this talk explore the priesthoods Caesar held as well the implications of what evidence we have for his devotions to the religious scruples that, according to ancient consensus, guaranteed Rome's earthly triumphs.

Tuesday, November 29, 2016 6:00–7:00 PM ET




Exploring the Delights of Medieval Latin


Presenter: Kenneth F. Kitchell Jr., Professor of Classics Emeritus and former Director of the MAT Program at University of Massachusetts

Professor Kitchell will provide an insider's, i.e., author's, perspective on the development of and rationale for his recently published The Other Middle Ages (Bolchazy-Carducci, 2016). He will share his insights on the utility of reading Medieval Latin and why it makes good sense to read this Latin with students who have just finished the basics. Students will find the grammar very manageable and many of the selections rather fun. Dr. Kitchell will present several representative readings to illustrate these points.



Next Semester Webinar Preview


ACTFL 2015 Teacher of the Year Ed Zarrow, PhD, joins active Latin master/enthusiast TJ Howell to give a webinar on using Roman coins in the active Latin classroom. Coming in early spring!
---
What Equipment Do I Need for B-C Webinars?

To participate in Bolchazy-Carducci Publisher sponsored webinars you will need high-speed internet access, computer speakers/headphones, current web browser, and the link to the webinar virtual meeting space, which is provided in your webinar invitation.
Webinars Make for User-Friendly Professional Development

Participation is free. All webinars provide opportunity for participants to ask questions. Learn lots—attend as many presentations as you can. Bolchazy-Carducci Publishers provides documentation for your participation. You can share this with your supervisors. Many webinar presenters provide handouts, etc.
eLitterae Subscribers Special Discount

Special 34% Discount


Every classroom should have a set of
these great resource texts!



This offer is valid for up to (5) copies, prepaid, no returns.
Discount is not available to distributors or
on products distributed by Bolchazy-Carducci Publishers.
This offer expires 10/20/16.
(Please note that there will be no adjustments on previous purchases.
Offer is non-transferable and subject to change without notice.)
Enter coupon code eLit0916
on the payment page. The special

eLitterae offer pricing will be charged at checkout.