Classical Conferences and Meetings in 2016

2017



CANE—Classical Association of New England
March 17–18, 2017
Philips Exeter Academy
Exeter, NH
Representative: Donald Sprague


CAMWS—The Classical Association of the Middle West and South


April 5-8, 2017




At the Invitation of the University of Waterloo




Holiday Inn, Kitchener, Ontario Canada


Representatives: Bridget Dean and Donald Sprague


Presentations:


Thursday, April 6, 2017
8:00–9:40 a.m.


"Miss Me But Let Me Go: Dido Sings Farewell"


Philip Barnes (John Burroughs School), conductor: Rome's Golden Poets CD

10:00–11:50 a.m.


"Iphigenia among the Barbarians: Tr.4.4b"


Helena R. Dettmer (University of Iowa), coauthor: A Catullus Workbook; Latin for the New Millennium, Level 3; Latin for the New Millennium Latin 3: Select Latin Enrichment Readings

12:50–1:35 p.m.
Round Table: "Testing and Assessing Ancient Greek"
Leader: Wilfred E. Major (Louisiana State University), coauthor: Plato: A Transitional Greek Reader

3:30–5:15 p.m.


"Unconscious Bias in the Hiring Process"


Alison Keith (University of Toronto), author: A Latin Epic Reader: Selections from Ten Epics

Friday, April 7, 2017
"Teaching Ablaut in Elementary Ancient Greek"
Rex Wallace (University of Massachusetts Amherst), author, Res Gestae Divi Augusti and An Introduction to Wall Inscriptions from Pompeii and Herculaneum

"Sailing through Practice in Elementary Greek: How to Use Psuedo-Skylax's Periplous"
Wilfred E. Major (Louisiana State University), coauthor: Plato: A Transitional Greek Reader

"The Politics of Greek Online Courses"
Anthony Hollingsworth (Roger Williams University), author: Cicero's First Catilinarian Oration: A Digital Tutor

Saturday, April 8, 2017
9:30–10:55 a.m.
"College Professors and the New Standards for Classical Language Learning"
Ronnie Ancona (Hunter College and CUNY Graduate Center), author: Writing Passion: A Catullus Reader, Writing Passion Plus: A Catullus Reader Supplement, Horace: Selected Odes and Satire 1.9; coauthor: Horace: A LEGAMUS Transitional Reader and A Horace Workbook

"Ignorant is Bliss?"
James V. Lowe (John Burroughs School), conductor: Rome's Golden Poets CD

"All My Children: The Offspring of Cleopatra in Recent Fiction"
Gregory N. Daugherty (Randolph-MaconCollege), coauthor: To Be a Roman

11:10 a.m.–12:40 p.m.
"Festive Allusions: Ovid on the Ides of March"
Carole E. Newlands (University of Colorado), author: An Ovid Reader: Selections from Seven Works

The 52nd International Congress on Medieval Studies
May 11–14, 2017
Western Michgan University
Kalamazoo, MI
Representatives: Adam Velez and Laurel Draper

ACL—American Classical League
70th Annual Institute
June 29–July 1, 2017
Grand Valley State University
Grand Rapids, MI
Representatives: Allan Bolchazy, Laurel Draper, and Donald Sprague

NJCL - National Junior Classical League


July 24–29, 2017




Troy University




Troy, AL


Representatives: Connor Hart and Donald Sprague

Pig Latin at Chipotle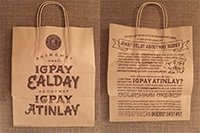 Our colleague Steve Perkins of North Central High School, Indianapolis, IN, shared on Facebook these take away bags from Chipotle.
---
Classics Echoes at the Pfister



A recent visit to Milwaukee's historic Hotel Pfister resulted in the following classical connections.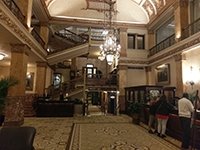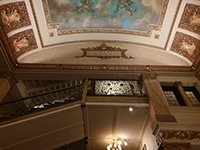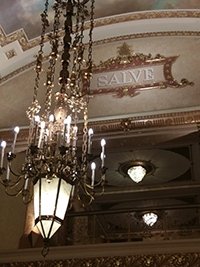 The main lobby's ceiling decoration features a welcoming SALVE at each end.
The Lobby Lounge provides an intentional "homey" atmosphere with its fireplace, couches, and comfy chairs. Note the chariot in the fireplace decoration.

---
Dido Candy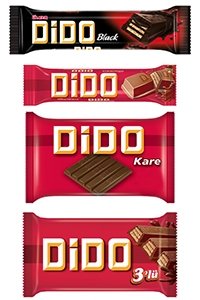 The Turkish candy producer Ulker makes four varieties of chocolates with the moniker Dido.
Bolchazy-Carducci Publishers provides eTextbooks on a variety of eBook platforms. Bolchazy-Carducci textbooks are available through VitalSource,

GooglePlay

,

Chegg

, Copia, RedShelf, Adams Book, Follett,

MBSDirect Digital

, and ESCO. Each eBook platform offers a variety of tools to enhance the learning process. eBooks have the same content as our traditional books in print.
eBooks are purchased from the eBook provider. For direct links to purchase Bolchazy-Carducci eTextbooks, visit the title's product page on Bolchazy.com. Just above the product description there is a list of the eTextbook providers and a direct link to purchase the eTextbook. Some eBook providers sell directly to schools—check with your school to make these purchases.
You can read eBooks on a Mac, PC, iPhone, iPad, Android, or a variety of eReaders. Review the eBook providers specifications.
The eyeVocab software leverages human memory for distinctive affective images* presented in isolation to radically improve the speed, depth, and permanence of second language vocabulary acquisition. Images are drawn from classical art, both western and eastern, from photojournalism and historical photography, great book illustration, and other sources.

*Learn how images are chosen.

Far more than a set of electronic flashcards, the multimodal vocabulary program facilitates a significantly deeper learning and retention. Students will readily master the frequent Vergil and Caesar vocabulary for the AP® Latin Exam and thereby devote far more of their study time and energy to reading and discussing De Bello Gallico and the Aeneid.

eyeVocab programs correspond to the following B-C books.

Caesar: Selections from his Commentarii De Bello Gallico
(Mueller) (218 words)

Vergil's Aeneid: Selected Readings from Books 1, 2, 4, and 6
(Boyd) (162 words)



Vergil's Aeneid: Books I–VI


(Pharr) (292 words)

Latin for the New Millennium Level 1

(423 words)





Introductory rate for each of the AP® Latin programs is $14.95. The LNM 1 and LNM 2 introductory rate is $24.95 per program. For site licenses, contact Miles Becker at sales@eyeVocab.com.




Click on each title to learn more.
The Pompeiiana Newsletter created and edited by Bernard Barcio ran from 1974 through 2003. The newsletter offered a place for Latin students to publish comics, stories, games, and articles, and was a beloved resource for Latin teachers. In 2008, Barcio granted Bolchazy-Carducci Publishers the rights for all of the Pompeiiana Newsletter. B-C is proud to serve as curator for this archive and has made the issues available for teachers, students, and friends of the classics. Check out http://pompeiiana.blogspot.com/
Each fall, Bolchazy-Carducci mails its Roman Calendar to Latin teachers across the nation. If you're not on that mailing list, send a note TODAY to info@bolchazy.com. Put Roman Calendar in the subject line and provide us the USPS address to which you wish the calendar to be sent. The calendar is also available in a digital format.
Preview Bolchazy-Carducci Titles

Preview Bolchazy-Carducci titles before you purchase using Google Preview.
---

Downloadable Products
iPodius - Bolchazy-Carducci Publishers online shop for: audio, software, video, and a treasure trove of teacher-created materials in the Agora.
---
BCP Facebook Fan Page
Become a FAN of Bolchazy-Carducci Publishers, visit our Facebook Fan page for the latest news from BCP.
---
BCP Blog
Visit the BCPublishers Blog for B-C news and information.
Follow the B-C blog to learn about the changes in Latin for the New Millennium, Levels 1 and 2.
For instance, learn about the enhanced derivative coverage in the Second Edition.
---
BCPublishers on Twitter
Follow us on Twitter

---
AP® is a trademark registered and/or owned by the College Board, which was not involved in the production of, and does not endorse, this site.
These products have been developed independently from and are not endorsed by the International Baccalaureate (IB).
For classes preparing for their annual celebration of the Ides of March, we provide a special Latin reading activity in the "Teaching Tips and Resources" section of this issue.
March launches our round of second-semester conferences: CANE, CAMWS, the Medieval Congress, and ACL. Yours truly will represent B-C at the Classical Association of New England's annual meeting and looks forward to reconnecting with our colleagues from New England.
Managing Editor Bridget Dean and I will attend the Classical Association of the Middle West and South annual conference in Kitchener, Ontario—we're excited about launching Ab Omni Parte Beatus, a festschrift in honor of St. Olaf College classicist legend James May.
Editor Laurel Draper and Senior Graphic Designer Adam Velez, who is a medieval enthusiast, look forward to sharing our new medieval Latin text The Other Middle Ages and its Teacher's Guide by Kenneth Kitchell along with the Second Edition of Medieval Mosaic by A.W Godfrey at the Medieval Congress hosted by Western Michigan University in Kalamazoo.
Vice President Allan Bolchazy will join Laurel Draper and Don Sprague for the annual American Classical League Institute in Grand Rapids, Michigan, where we shall celebrate the new Second Edition of Latin for the New Millennium! On Friday afternoon, we invite all LNM users to join us for an "affinity" gathering where we can share ideas about LNM. For more 411 on these conferences, check the section on "Classical Conferences and Meetings."
We look forward to seeing you at one or more of the conferences. Be sure to stop by the B-C exhibit for a hands-on look at our texts.
Our best wishes for a successful registration period that includes strong retention for Latin and Greek!
Not too long ago, I was searching online for a story to use as a hook for my Latin 3 class. I love using an interesting story to capture students' interest, provide them with context, or help them make connections. My search led me to the website of Listenwise, a searchable collection of podcasts and public radio broadcasts on a wide range of interesting topics. Listenwise is designed to practice and develop English listening comprehension skills and, as a result, has some features that may not be necessary in every Latin classroom. However, an ever-growing collection of stories and podcasts that are accompanied by strong comprehension questions, various graphic organizers, and even links to premade Socratic activities can be useful for the Latin classroom. A quick search on "Ancient Rome and Greece" yields segments ranging from "The Quest for an Accurate Calendar" and "What Can the United States Learn from Ancient Rome?" to "Preserving Pompeii" and "Direct Democracy in Athens." Many fascinating topics feature numerous points of connection to our curricula. Listenwise has both free and paid premium account options. I have been happy with the free account as I continue to explore the ways that it can enrich my classes. To learn more, check it out at
listenwise.com
.
Lynne West
Bellarmine Jesuit College Prep
San Jose, CA
Interview with Elizabeth Heimbach, author of Word Mastery through Derivatives: Designed for Students of Latin (forthcoming June 2017)
DES: Please share with us how the Word Mastery through Derivatives came about.
EH: I have always loved learning about the roots of English words. How can an English word like quidnunc (a gossip) not make you smile and picture someone going around saying, "Quid nunc, quid nunc?" ("What now? What now?")? Isn't it interesting that the word "vaccination" is related to the Latin word for cow and that the word "companion" is related to the Latin word for bread? Of course, as a Latin teacher, I often hear people say that they are glad they took Latin because it helped them expand their English vocabulary. And I know that a vital key to success in translating Latin is a solid grounding in vocabulary. I have seen over and over again how much knowing English derivatives can help students master Latin vocabulary words.
DES: Discuss the significance of the subtitle Designed for Students of Latin.
EH: Books that promise to expand a reader's English vocabulary are certainly widely available. This workbook, however, is intended specifically to help Latin students with the onerous task of memorizing Latin vocabulary. For example, the English words "exponent" and "deposition" will help a Latin student remember the principal parts of the Latin verb pōnō as well as the Latin prepositions dē and ex. It is a bonus that both are interesting and useful English words to know.
DES: How is the workbook structured? Which chapters are your favorites? Why?
EH: The workbook is divided into three parts. The first part deals with suffixes and prefix and preposition derivatives. The lesson on prepositions is a favorite. It is not only useful for Latin students learning prepositions, but it can also be an enormous help to students in figuring out the meanings of a huge number of English words. The lessons in the second section deal with a variety of interesting topics. There are derivatives from Latin words for animals and for numbers as well as for colors. Another of my favorite chapters has to do with politics. It is interesting to recognize how many English words related to politics are derived from Latin. Words like "republic," "veto," and "senator" are gifts to us from the Romans! The lessons in the third section focus on topics such as Latin adjectives and Latin pronouns.
DES: Explain the criteria you apply when deciding to include an English derivative.
EH: I included English derivatives that are especially useful in learning specific Latin words. Some of those derivatives are very easy. For instance, "duet" is an obvious reminder of the Latin number duo. Others, like "pelagic" from pelagus (sea) are more challenging and probably less familiar. For many students, however, the Latin word and the English word are both memorable. I also tried to include groups of words that all have the same root: "terrarium," "terrestrial," and "extraterrestrial," for example, are easy for students to associate with the Latin terra (earth). NB: These groups of English words with a common root are helpful to students taking the National Latin Exam because the derivative questions are often posed in that way.
Editor's Note: The Latin vocabulary words featured in Word Mastery through Derivatives are not from any one beginning textbook. By design, the workbook will work well with any beginning Latin text or series.
DES: In what classes or levels do you envision the workbook being used?
EH: The first two sections of the workbook can be used for students in grades six to ten. They are especially appropriate for young students beginning their study of Latin in sixth or seventh grade. The later lessons in Part III are more appropriate for older students in grades eight to ten.
DES: How did you come to study Latin and Greek?
EH: I belong to a generation of students who were required to take Latin in high school as a matter of course. I simply continued with Latin in college to fulfill the language requirement. There, I was astonished to discover how fascinating Latin literature is! In both college and graduate school I was enormously fortunate to have wonderful teachers, Agnes Kirsop Michaels, Richmond Lattimore, Charles Babcock, and Mark Morford. Later on, I have been inspired by Christine Sleeper and my colleagues on the National Latin Exam Writing Committee.
DES: What do you enjoy most about teaching Latin and Greek?
EH: Spending my life with smart, interesting, idealistic students . . . it is enormous fun to teach beginners who are learning amō, amās, amat, just as it is to listen to older students as they discuss Cicero, Caesar, Catullus, Ovid, or Vergil with passion and enthusiasm.
DES: What advice would you give someone starting out as a new Latin and/or Greek teacher?
EH: Festīnā lentē: don't worry if every class does not go exactly as you planned. You may never know where a seed you planted in someone's mind (or a word you helped them master) becomes important to them.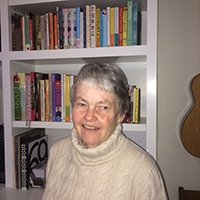 Elizabeth Heimbach taught high school Latin for more than thirty years and is currently an adjunct professor at the University of Mary Washington in Fredericksburg, Virginia. Heimbach received a BA in Latin from Bryn Mawr College and an MA in classics from the Ohio State University. Her research interests include the Vesuvian cities of Pompeii and Herculaneum and the archeological sites of Arbeia and Bignor in England. Heimbach is the author of Latin Everywhere, Everyday (Bolchazy-Carducci Publishers, 2004) and A Roman Map Workbook, 2nd Edition (Bolchazy-Carducci Publishers, 2013).

Editor's Note: Word Mastery through Derivatives: Designed for Students of Latin is scheduled to debut at the ACL Institute in June.

Carpe Dementiam!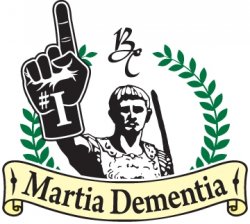 Deadline is March 16! Don't leave your students out! Carpe Martiam Dementiam! Encourage them to enter the third annual Martia Dementia contest that will pit gods, goddesses, authors, and politicians against one another. Students can enter individually or make it a class activity and submit a class entry.
Thanks to our four winter webinar presenters and to our colleagues who participated in the Tuesday webinars. We'll be announcing our spring webinars in the next couple weeks via eBlast. So stay tuned!
We are pleased to have conducted our first spoken Latin webinar with ACTFL 2015 Teacher of the Year Ed Zarrow, PhD, and active Latin master/enthusiast TJ Howell, who demonstrated how to use Roman coins in the active Latin classroom. We hope to make a similar webinar a regular feature.
If you have suggestions for webinar speakers or topics, please let us know! Contact don@bolchazy.com.
---
What Equipment Do I Need for B-C Webinars?

To participate in Bolchazy-Carducci Publisher sponsored webinars you will need high-speed internet access, computer speakers/headphones, current web browser, and the link to the webinar virtual meeting space, which is provided in your webinar invitation.
Webinars Make for User-Friendly Professional Development

Participation is free. All webinars provide opportunity for participants to ask questions. Learn lots—attend as many presentations as you can. Bolchazy-Carducci Publishers provides documentation for your participation. You can share this with your supervisors. Many webinar presenters provide handouts, etc.
Resources & Teaching Tips

√ LNM Audio Readings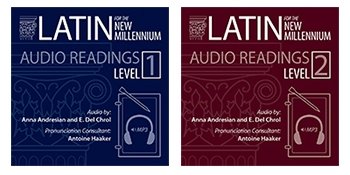 Bolchazy-Carducci Publishers is pleased to announce that the Latin MP3 readings of each Latin chapter reading for Latin for the New Millennium Level 1 and Level 2 are available in the LNM Teachers' Lounge for complimentary download and use with your classes. These audio readings are embedded in the eBook versions of LNM 1 and 2. Master teachers and oral Latin enthusiasts Anna Andresian and Professor E. Del Chrol (Marshall University, West Virginia) provide professionally recorded readings in the restored classical pronunciation of Latin.

√ Valerius Maximus on Caesar's Death


Caesar: A LEGAMUS Transitional Reader by Rose Williams and Hans-Friedrich Mueller serves as an excellent scaffold to reading the complete AP® Latin Caesar curriculum. The text provides 325 lines that include Caesar as General and Caesar as Cultural Reporter with selections from De Bello Gallico and Caesar against the Senate with selections from De Bello Civili. The reader provides transitional aids that assist the student in understanding Caesar's style.

This selection from the LEGAMUS text is from the early imperial author Valerius Maximus's Facta et Dicta Memorabilia (Memorable Deeds and Sayings). Valerius uses the story of Caesar's death to illustrate the moral virtue of personal modesty. The complimentary download for use only in your own classroom is a complete activity: prereading, Latin text with abundant vocabulary and notes, and postreading questions.


Editor's Note: Caesar: A LEGAMUS Transitional Reader is one of this month's specially discounted titles. See below.

The Smithsonian Magazine features an engaging tale of a seminal archaeological discovery that provides insight into Mycenaean civilization and in turn the world of the Iliad's Greek warriors.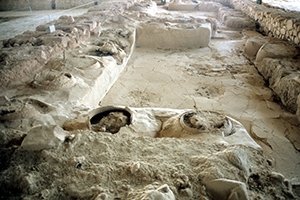 A view of the excavations of King Nestor's Palace at Pylos. Creative Commons 3.0.

√ The Warriors of the
Iliad
This map shows the homeland of every character in Homer's Iliad.
√ Ancient Near Eastern Cross-Cultural Timeline


The Oriental Institute provides a free download of this fascinating timeline. While you're on their site, you can take a virtual tour of this museum's treasures from the world of Gilgamesh and others.
√ Roman Buildings Presented in linguā Latīnā


Ease your students into some comprehensible active Latin with Divus Magister Craft's YouTube videos on such topics as a Roman insula, Roman burials, the circus, and others.
√ Learning from the Accidental


This NPR report describes how Iron Age potters carefully though unintentionally recorded the earth's magnetic field!
eLitterae Subscribers Special Discount

eLitterae Subscribers Special Discount
Special 40% Discount


This offer is valid for up to five (5) copies of each title,
prepaid, no returns.
Discount is not available to distributors or
on products distributed by Bolchazy-Carducci Publishers.
This offer expires 04/15/17.
(Please note that there will be no adjustments on previous purchases.
Offer is non-transferable and subject to change without notice.)
Enter coupon code eLit0317
on the payment page. The special

offer pricing will be charged at checkout.