Three Ways to Use Love in the Creative Process
Okay, it wasn't a love note, it was a poem about morning. There was, however, some love making in it. I love making poetry, images, and art. I love making newsletters that might carry one or two things that could create a difference in someone else's love affair with the creative process.
The demons inherent in the creative process used to turn me into a cranky lover. Irritable
because of the pressure to do it perfectly, hoodwinked by comparing myself to others, and the uncomfortable when feeling inept. As a creative junkie, I'm happiest when I'm in the process and know perseverance is the only way to progress. Here are three ways I do that.

1. Love is also a process.
When I approach the process, aware of what I love about it instead of pressuring myself about the product, I keep coming back. I practice being in complete enjoyment no matter what the outcome. If the process is enjoyable, perseverance is easier. If the process is about love, the process becomes bliss. If you can't get your mind around it make enjoying the process the practice. When we feel bliss in the process, the emphasis on perfection evaporates but ironically the product is more likely to take care of itself.

2. Try loving instead of loathing yourself.
Some of us, I won't point
fingers
, aren't showing up for our creative passions.
Have you considered that this is a form of punishment? --Think about it. You LOVE writing, painting, cooking, building a business, song writing, making people laugh, making sculpture out of dryer lint and/or etc... but you're not doing it. You are withholding pleasure, process, and peace.
I've been known to deny myself my passion too, but the question is: When will you love yourself enough to allow time for your passions? JUST ASK, the subconscious will find ways to answer the question.
Self-love is required for the creative process. What are two things you love about yourself? Obsess about them for the rest of the week. Why would we want to express ourselves if we didn't like who we are? If you think you're pretty cool, it spills over into the desire to create.

3. Start receiving compliments and stop with the gallows humor
Imagine the compliment someone gave you about your creative thing is for your child-fueled spirit. When you dismiss it, you are putting down a part of you that might as well go into resistance because you're so mean. Instead of qualifying, denying, and disregarding a compliment, say thank you - after awhile you'll believe it and have more confidence about what you do.
.
Putting yourself down may be automatic, natural and seem funny (not including self-deprecating humor that is said with a secure ego) but it is chipping away at the esteem and self-acknowledgement that leads to necessary creative courage.
If you catch yourself, just be aware. In my workshops, I often give the instructions: "Don't worry about being perfect." Some people respond with, "Oh don't worry, it won't be." Imagine you are saying that to a creative child: "You are not going to be good at this." Would you do that? Instead consider thinking, "Oh boy, let's have fun with this instead." Go ahead, think of something you want to do and say that out loud. I'm listening.
All rights reserved. All lefts released. Go make stuff, right and left.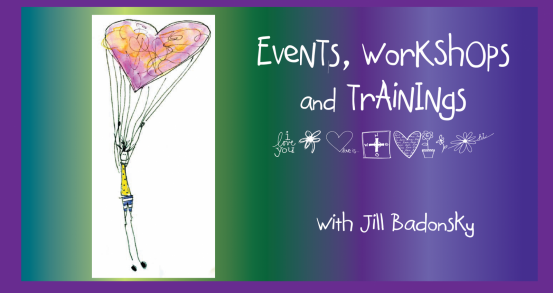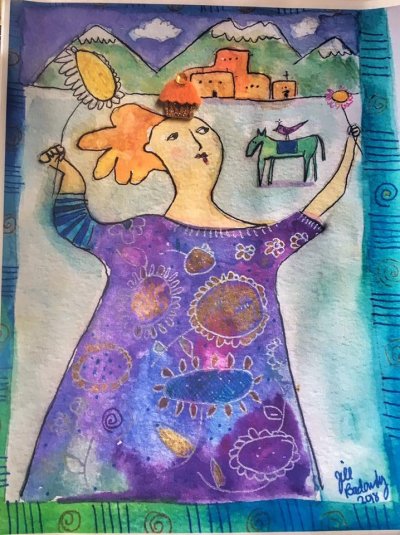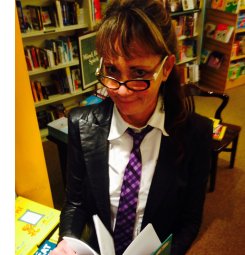 Jill Badonsky, M.Ed. is designer and head muse of the Kaizen-Muse Creativity Coaching Certification Training started in 2004, multimedia artist, yoga teacher, and author/illustrator of three books on creativity.