The Bolchazy-Carducci Publishers family takes great pride in sharing this special edition of eLitterae with you. Please join us in celebrating the thirty-five years of combined service that Allan Bolchazy, vice president, and Marie Bolchazy, former president, gave to Bolchazy-Carducci Publishers. Please also join us in wishing them well as they head to California—Marie to retirement in Laguna Woods and Allan to pursue real estate opportunities in Santa Rosa. To mark this significant occasion and give the beloved duo an appropriate sendoff, the staff and a host of special guests assembled on Friday, April 27, for a wonderful luncheon party.

President Bridget Dean graciously welcomed guests including former staff members, B-C authors from the Chicago area, and other friends associated with the classics. Dr. Dean also delivered tributes to both Allan and Marie saluting them for their service to the company and thanking them for what she had learned from them. She praised Marie as a role model for women in business, who consistently matches high ideals with action.

Following a delicious repast catered by the local Sushi-Thai Restaurant, festivities included two rounds of "California Bingo" with the bingo squares bearing terms and places relevant to Marie and Allan's new homes. Editor Laurel Draper and Rene Vela, shipping and inventory specialist, each received a set of coasters bearing the image of an owl as the prize for winning a round of bingo. The festivities culminated in the group cheering Marie and Allan on as they each unwrapped the gifts in their "California survival backpacks."

While many hands made the party a success, special recognition goes to Carolyn Bernardi, B-C's master party planner and photographer.

In the December 2017 issue of
eLitterae
, we published a
tribute
to Marie Carducci Bolchazy as she retired from the company having served for a quarter of a century. Marie has established her new home in Laguna Woods where she enjoys the company of her sister-in-law Janine Bolchazy and, among a myriad of activities, perfecting her table tennis game. She will, however, continue to oversee Bolchazy-Carducci Publishers as owner and chair of the board of directors and will also serve as an advisor.
Allan Bolchazy is stepping down from the day-to-day operations at Bolchazy-Carducci Publishers, where he has been vice president for the past ten years, following a career in civil engineering. He will be pursuing a career in real estate in Santa Rosa, CA, located fifty-five miles north of San Francisco in the heart of wine country, with rolling hills, redwoods, and a milder climate than Chicago. Santa Rosa is the home of the Charles M. Schulz Museum, and sculptures of Peanuts characters can be found around town. The city, which is the county seat of Sonoma County, was also the home of Luther Burbank, an American botanist and horticulturist. During his career, Burbank developed more than 800 strains and varieties of fruits, flowers, grasses, and vegetables—a visit to the Luther Burbank Home and Gardens is a must when visiting Santa Rosa. Allan, his husband Paul Mallatt, and their two cats, Boris and Natasha, are looking forward to the move to Northern California. Allan will remain on the board of directors of the family-owned Bolchazy-Carducci Publishers.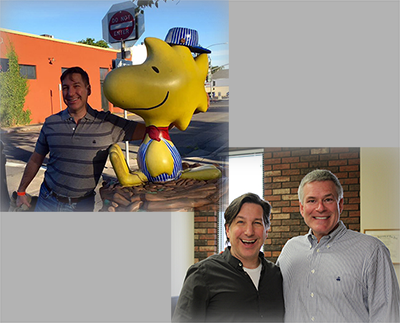 Allan Bolchazy poses with comic character "Woodstock" in Santa Rosa, CA.
Allan Bolchazy and Paul Mallatt.
We wish both Marie and Allan well in their new adventures, itinera terraeque novae!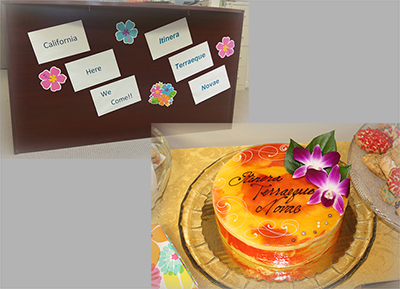 ---
We offer the following photographs from the party

for your viewing pleasure.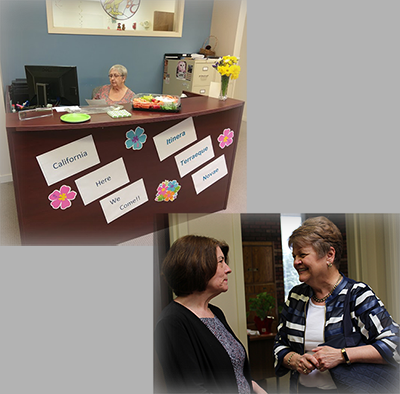 Linda Lochmayer, customer service specialist, awaiting the arrival of our guests.
Jody Cull, production manager, and retired B-C colleague Judy Armstrong greet one another.

---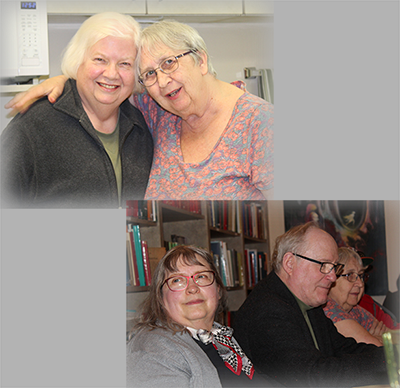 Donna Schmidt, who worked for the Slovak-American Foundation formerly housed at B-C, and Linda greet one another.
Retired editor Laurie Haight Keenan with husband and B-C contributor Jim Keenan of Loyola University Chicago catch up with Linda..
---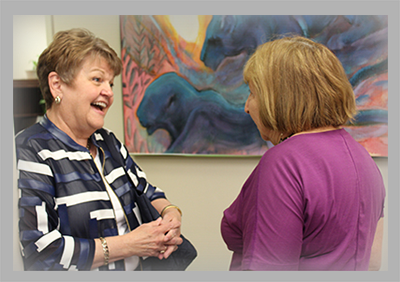 Judy Armstrong and Marie catch up.
---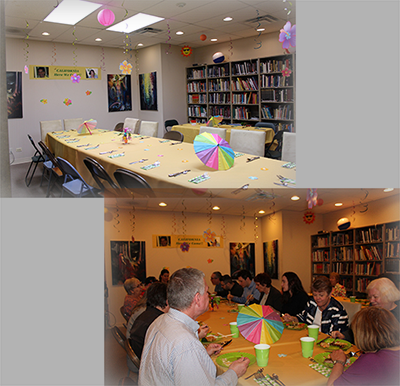 This juxtaposition shows the library/conference room ready to party and then filled with staff and guests.
---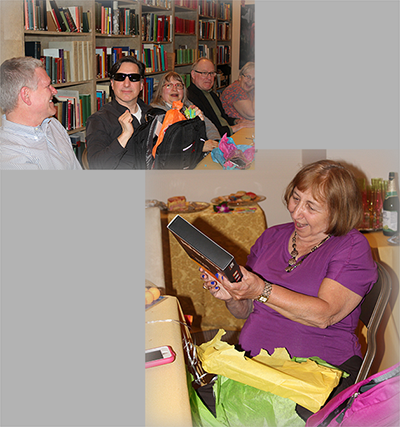 Allan sports the sunglasses that were part of his "survival" pack.
Marie's "survival" pack included a fancy set of table tennis balls and paddles.
---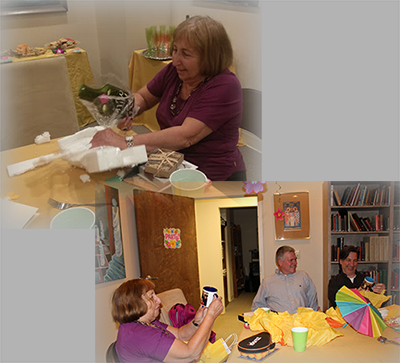 Marie proves to be a master gift unwrapper.
Allan and Marie were directed to simultaneously open the last present in their packs. Here, they both show off their new coffee mugs emblazoned with the "mugs" of their Bolchazy-Carducci colleagues.
---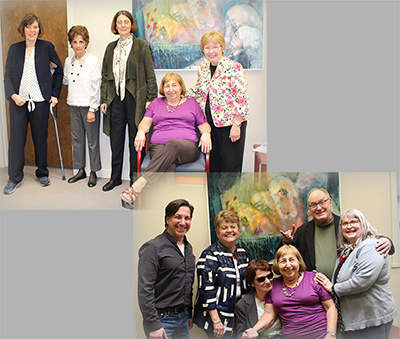 Before saying good-bye, guests pose for the camera.
Left: Mary Joan Masello, Elisa Denja, Rickie Crown, Marie Bolchazy, Judy Hayes
Right: Former staffers Allan Bolchazy, Judy Armstrong, Georgine Cooper, Marie Bolchazy, Jim & Laurie Keenan