Trojan Horse as Hot Rod Mustang
Virginia Wesleyan's Benjamin Haller captured this variation on the Trojan Horse as he was rerouted through Houston on his way home after the Southwest Popular/American Culture Association's 39th Annual Conference in Albuquerque, New Mexico. Haller delivered a paper entitled "Classical Counterfactuals: George Sandys's 1632 Metamorphoses Commentary and 'Good News from Virginia.'" Learn more about the sculptor Tim Glover.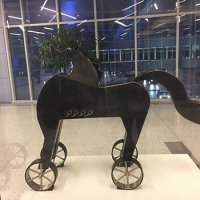 Tim Glover's 2014 Hot Rod Mustang, a hybrid Trojan horse-car tabletop piece, is on display in the sculpture gallery at George Bush Intercontinental Airport, Houston. Photo by Benjamin Haller.
---
Bibendum

Did you know the Michelin Tire Man has Horatian roots? Indeed, his name is Bibendum. Check it out.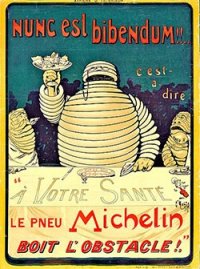 1898 Poster of the Michelin Man. Photo courtesy of Wikimedia Commons/Public Domain.
---
Armenia's Roman Temple
This Roman-inspired "temple" demonstrates Rome's broad influence.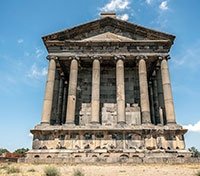 The so-called Temple of Garni in Garni, Armenia, built in the Hellenistic style, is believed to have been built in the 1st century CE. Photo courtesy of Wikimedia Commons: Diego Delso, delso.photo, License: Creative Commons 4.0.
---
Laocoon Recycled
When an article is entitled "Ugliest Sculpture Ever Says Portrait Gallery's Director" . . .
---
We'd love for you to share, of course, we'd give you appropriate credit, the classical tidbits you come across. Zap them to editor Don Sprague.
Classical Conferences and Meetings in 2018

CANE—Classical Association of New England


March 16–17, 2017




University of Rhode Island




Kingston, RI


Representative: Donald Sprague

CAMWS—Classical Association of the Middle West and South


April 11–14, 2018




Hotel Albuquerque at the invitation of the University of New Mexico




Albuquerque, NM


Representatives: Allan Bolchazy, Bridget Dean, and Donald Sprague



B–C Author Presentations




Thursday, April 12, 2018





8:00–9:45 am


"The Roots of the STEMS," Anthony Hollingsworth, Roger Williams University, developer, Cicero's First Catilinarian Oration: A Digital Tutor



10:00–11:45 am


"The Battle Between History and Myth: A New Look at Livy's Oppian Law Debate," T. Davina McClain, Northwestern State University, author, Graphic Greek Grammar Cards

"Internal Synkrisis in Plutarch's Aratus," W. Jeffrey Tatum, Victoria University of Wellington, author, A Caesar Reader: Selections from Bellum Gallicum and Bellum Civile, and from Caesar's Letters, Speeches, and Poetry



"Ovidian Scenes on 18th–century Chinese Porcelain," Thomas Sienkewicz, Monmouth College,


coauthor, Vergil: A LEGAMUS Transitional Reader

"Catullus and the Swansong," Philip V. Barnes, John Burroughs School, conductor, Rome's Golden Poets



12:15 – 1:00 pm




Round Table Topics and Moderators


"The AP Latin Exam: A Conversation," T. Davina McClain, Northwestern State University, author, Graphic Greek Grammar Cards

"CAMWSCorps: Recording the Past, Imagining the Future," Anne Groton, St. Olaf College, coauthor, Thirty-eight Latin Stories



1:15–3:00 pm


"War Is Women's Business: Women and War Trauma in Greco–Roman Epic and Tragedy," respondent, Alison Keith, University of Toronto, A Latin Epic Reader: Selections from Ten Epics

"The Passion of Cleopatra (2017): Anne Rice's Sequel to The Mummy (1989)", Gregory Daugherty, Randolph Macon College, coauthor: To Be a Roman



Friday, April 13, 2018





1:30–3:00 pm




"Terror in a Turnus Town: Vergil's Wild West, and Ours," Robert T. White, Beaumont School,


coauthor, (forthcoming) Lectiones Memorabiles Volume III: Selections from Caesar, Catullus, Horace, Livy, Ovid, and Vergil

"Age and Aging in Roman New Comedy," respondent, Anne Groton, St. Olaf College, coauthor, Thirty-eight Latin Stories



3:15–4:45 pm




"Caesar, the Geographoi and Lewis and Clark: The Use of Animals in Describing New Lands,"


Kenneth Kitchell, University of Massachusetts Amherst, author, The Other Middle Ages, coauthor, Catullus: A LEGAMUS Transitional Reader



Saturday, April 14, 2018





11:00–12:30


"The History of Elegy and Ovid's Rustication Cure (Remedia amoris 169–98)," Barbara Weiden Boyd, Bowdoin College, author, Vergil's Aeneid: Selected Readings from Books 1, 2, 4, and 6, Vergil's Aeneid: Expanded Collection, Vergil's Aeneid 8 & 11: Italy and Rome, Vergil's Aeneid 10 & 12: Pallas & Turnus, coauthor, A Vergil Workbook

The 53rd International Congress on Medieval Studies


May 10–13, 2018




Western Michigan University




Kalamazoo, MI


Representatives: Adam Velez and Laurel Draper

ACL—The American Classical League


71st Annual Institute




June 28–June 30, 2018




University of Montana




Missoula, MT


Representatives: Laurel Draper and Donald Sprague

NJCL—National Junior Classical League
July 23–28, 2018
Miami University
Oxford, OH

Bolchazy-Carducci Publishers provides eTextbooks on a variety of eBook platforms. Bolchazy-Carducci textbooks are available through VitalSource,

GooglePlay

,

Chegg

, RedShelf, Adams Book, Follett,

MBSDirect Digital

, and ESCO. Each eBook platform offers a variety of tools to enhance the learning process. eBooks have the same content as our traditional books in print.
eBooks are purchased from the eBook provider. For direct links to purchase Bolchazy-Carducci eTextbooks, visit the title's product page on Bolchazy.com. Just above the product description there is a list of the eTextbook providers and a direct link to purchase the eTextbook. Some eBook providers sell directly to schools—check with your school to make these purchases.
You can read eBooks on a Mac, PC, iPhone, iPad, Android, or a variety of eReaders. Review the eBook providers specifications.
The eyeVocab software leverages human memory for distinctive affective images* presented in isolation to radically improve the speed, depth, and permanence of second language vocabulary acquisition. Images are drawn from classical art, both western and eastern, from photojournalism and historical photography, great book illustration, and other sources.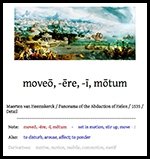 *Learn how images are chosen.

Far more than a set of electronic flashcards, the multimodal vocabulary program facilitates a significantly deeper learning and retention. Students will readily master the frequent Vergil and Caesar vocabulary for the AP® Latin Exam and thereby devote far more of their study time and energy to reading and discussing De Bello Gallico and the Aeneid.

eyeVocab programs correspond to the following B-C books.

Caesar: Selections from his Commentarii De Bello Gallico
(Mueller) (218 words)

Vergil's Aeneid: Selected Readings from Books 1, 2, 4, and 6
(Boyd) (162 words)



Vergil's Aeneid: Books I–VI


(Pharr) (292 words)

Latin for the New Millennium Level 1

(423 words)





Introductory rate for each of the AP® Latin programs is $14.95. The LNM 1 and LNM 2 introductory rate is $24.95 per program. For site licenses, contact Miles Becker at sales@eyeVocab.com.




Click on each title to learn more.
The Pompeiiana Newsletter created and edited by Bernard Barcio ran from 1974 through 2003. The newsletter offered a place for Latin students to publish comics, stories, games, and articles, and was a beloved resource for Latin teachers. In 2008, Barcio granted Bolchazy-Carducci Publishers the rights for all of the Pompeiiana Newsletter. B-C is proud to serve as curator for this archive and has made the issues available for teachers, students, and friends of the classics. Check out http://pompeiiana.blogspot.com/
Each September, Bolchazy-Carducci mails its Roman Calendar to Latin teachers across the nation. Watch for yours! If you're not on that mailing list, send a note TODAY to info@bolchazy.com. Put Roman Calendar in the subject line and provide us the USPS address to which you wish the calendar to be sent. The calendar is also available in a digital format.
Preview Bolchazy-Carducci Titles

Preview Bolchazy-Carducci titles before you purchase using Google Preview.
---

Downloadable Products
iPodius - Bolchazy-Carducci Publishers online shop for: audio, software, video, and a treasure trove of teacher-created materials in the Agora.
---
BCP Facebook Fan Page
Become a FAN of Bolchazy-Carducci Publishers, visit our Facebook Fan page for the latest news from BCP.
---
BCP Blog
Visit the BCPublishers Blog for B-C news and information.
Follow the B-C blog to learn about the changes in Latin for the New Millennium, Levels 1 and 2.
For instance, learn about the enhanced derivative coverage in the Second Edition.
---
BCPublishers on Twitter
Follow us on Twitter

---
AP® is a trademark registered and/or owned by the College Board, which was not involved in the production of, and does not endorse, this site.
These products have been developed independently from and are not endorsed by the International Baccalaureate (IB).
Winter Greetings!

Our friends in the Northeast will be looking forward to February vacation. The rest of us, however, must settle for President's weekend. Enjoy the respite from the everyday life of the sedulous Latin teacher.


For those of you looking for Latin materials to use to mark the Ides of March or feast of St. Patrick, check out "Resources & Teaching Tips."


And, speaking of March, be sure to psyche your students into participating in the fun Martia Dementia!


This is often the season for reviewing textbooks and teaching materials; should you have questions, don't hesitate to contact us. At Bolchazy-Carducci Publishers, your call will be answered by a customer service specialist. Feel free to ask for a classicist editor to discuss our texts.

All best,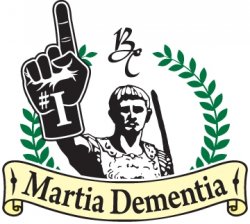 Don't leave your students out! Carpe Martiam Dementiam! Encourage them to enter the fourth annual Martia Dementia contest that will pit gods, heroes, authors, and politicians against one another. Students can enter individually or make it a class activity and submit a class entry.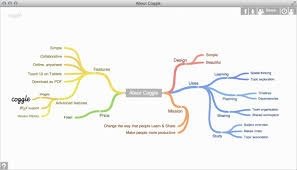 I think it is incredibly beneficial to provide opportunities for students to create visual representations of their learning. The website www.coggle.it is an excellent tool to this end. Both teachers and students can use it to create concept and mind maps as well as flow charts. It takes just a few minutes to set up a free account and learn how the tool works.

I have used the site to help me organize my thoughts in the unit planning process. I particularly appreciate how easy it is to re-order, move, and expand ideas. My students have used coggle.it to create planning maps for projects and as a visual note-taking tool. They have found it helpful to create a visual for each of our units of study. Coggle.it can also be used for real-time collaboration. So, it is easy for pairs or groups of students to contribute to a shared map or diagram. To get started, visit
www.coggle.it
Lynne West
Latin Teacher and Instructional Specialist
Bellarmine Jesuit College Prep
San Jose, CA

Resources & Teaching Tips

√ The Ides of March Latin Selections
• For your Latin 1 students, this selection from Latin for the New Millennium, Level 1, provides an adapted Latin reading about the Druids from Caesar's De Bello Gallico.
• For your Latin 3 and Latin 4 students, this unadapted selection about the assassination of Julius Caesar is from Josiah Osgood's A Suetonius Reader: Selections from the Lives of the Caesars and the Life of Horace. Students will have to use their dictionaries for words that are new to them. A set of notes is also excerpted from the Osgood text.
• To place Caesar's assassination and his impact on Roman affairs in context, we provide an excerpt from Rose Williams's engaging Julius Caesar: Master of Surprise.
Editor's Note: This month's special discount features A Suetonius Reader: Selections from the Lives of the Caesars and the Life of Horace and Julius Caesar: Master of Surprise.

• From the archives, the March 2017 eLitterae contains the Latin reading Valerius Maximus on Caesar's Death from Caesar: A LEGAMUS Transitional Reader. This reading is geared toward Latin 3 or honors Latin 2 students.
√ Latin Selections on St. Patrick

Also from the archives, the February 2017 eLitterae contains two Latin readings about St. Patrick—one from the Latin for the New Millennium, Level 2, workbook and one for upper level students taken from Millennium.
Editor's Note: All the above PDFs from Bolchazy-Carducci Publishers' texts are provided for classroom use only as downloaded by the eLitterae subscriber and are not to be otherwise copied or distributed.

√ Summer Professional Development Opportunity

Lynne West, who pens
eLitterae's
monthly "Tech Tip," will again offer a workshop called "Simple Strategies for Technology Integration" at the Taft School's Education Center in Watertown, Connecticut. The workshop runs from July 23 to July 27 and will provide lots of opportunities to both learn about great tools and practice using them. For more information, visit the
website
; in the disciplines window, choose "Technology" and place a check in the E-week box.
√ Res Militares

• Check out this Roman legion camp in Israel.
• Lion helmet from Punic Wars.
√ Archaeological Discoveries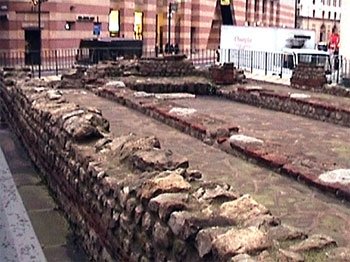 Relocated ruins of Temple of Mithras in London.
Photo courtesy of Wikimedia Commons 3.0.

•
Serendipitous Loss of a Hammer
√ Emperor Hadrian

Play this clever game about Hadrian or go big time and undertake the Open University online course on Hadrian.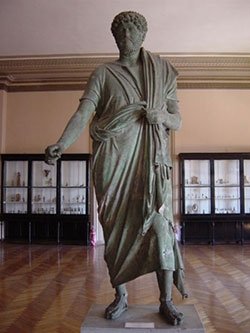 Bronze statue of Hadrian, 2nd centure CE, from Adana, Turkey. Now housed in the Archaeological Museum in Istanbul. Photo by Giovanni Dall'Orto/Wikimedia Commons.
√ A Day in the Life
A Day in the Life of a Classicist is a monthly column on the Society of Classical Studies blog written by Prof. Ayelet Haimson Lushkov celebrating the working lives of classicists.
√ The Value of the Arts

Why STEAM is better than STEM.
√ Bronze Age Haute Couture

Here's a special look at classical reception!
√ Homer Meets Mid-century

You'll love these sixteen mid-century images drawn for a children's Homer.
•
Tea and chai take two
different routes
from China. For a change of pace, share Maffeius's
Latin account
on tea (adapted reading in
Latin for the New Millennium
, Level 2) with this article.
•
This guy graphed the etymology of words. Just terrific!
eLitterae Subscribers Special Discount

eLitterae Subscribers
Special 33% Discount
Paperback, x + 110 pp., 11 illustrations and 2 maps,
ISBN: 978-0-86516-800-0

$12.00

$8.00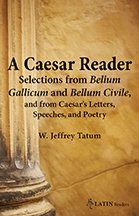 Paperback, xxxix + 159 pp., 8 illustrations,
ISBN: 978-0-86516-716-2
$19.00

$12.00
This offer is valid for up to ten (10)
copies, prepaid, no returns.
Discount is not available to distributors or
on products distributed by Bolchazy-Carducci Publishers.
This offer expires 03/19/18.
(Please note that there will be no adjustments on previous purchases.
Offer is non-transferable and subject to change without notice.)
Enter coupon code eLit0218
on the payment page. The special

offer pricing will be charged at checkout.
2018 Winter/Spring Webinars

Tuesday, March 13, 2018 6:00–7:00 PM ET
Amazons: The Myth, the Meme, the Reality
Presenter: Tara Sewell-Lasater, University of Houston

Until recently, the Amazons were believed to be a mythological group of women who had been invented by Greek epic poets to provide their heroes an interesting and outlandish "other" to fight. Works on the Amazons written in the 1970s, 80s, and even into the 90s include explanations such as: "The Amazon is a dream that men created, an image of a superlative female that men constructed to flatter themselves."1 Other works pointed out the futility of identifying myth versus fact: "there is no way, through modern historical methods, to affirm or deny the Amazons' existence."2 While the Amazons were used by the Greeks as an "other," this presentation will argue that it is possible to confirm the Amazons were based on a real people through the use of literary and archaeological evidence. More importantly, the myth of these warrior women eventually became a meme, a type of cultural memory or symbol that was vastly different from the original culture on which they were based. This meme was used by the Greeks as a contrast to Greek life and social norms.
---
Tuesday, March 20, 2018 6:00–7:00 PM ET

Using Roman Coins and Material Culture in the Active Classroom

Presenters: Thomas "TJ" Howell, Belchertown High School, and Edward Zarrow, PhD, Westwood High School

These two seasoned high school Latin instructors enthusiastically incorporate spoken Latin in their classrooms. In this webinar, they demonstrate a lesson using a set of representative Roman coins as a stimulus for active Latin.
---
Tuesday, April 10, 2018 6:00–7:00 PM ET
Women and War in the Roman Empire
Presenter: Caitlin Gillespie, Columbia University
This webinar discusses the concept of a dux femina (commander woman) in Roman literature from Vergil's Dido onward, providing examples of both positive and negative ways in which women became leaders in the Roman world. We then focus on Boudica as an example of this literary topos and explore how Boudica's complex literary portrait illustrates the difficulties in assessing a female barbarian warrior through Roman terms.

---
Tuesday, May 1, 2018 6:00–7:00 PM ET
Some Tech Tips Useful for Review
Presenter: Lynne West, Bellarmine College Preparatory School



A wide variety of technology tools are available to help provide effective and fun review opportunities for our students. This one-hour webinar will address several tools that can enhance and enliven the Latin classroom. Participants will have the opportunity to explore web-based tools that are valuable additions to both the elementary and advanced Latin curriculum. We will especially address methods and tools for reviewing vocabulary, grammar, history, and culture with the hope that you might implement them for your end-of-year review. Participants will come away with a deeper understanding of both the role that technology can play in review and how to integrate it effectively.



If you have suggestions for Fall 2018, please contact Don Sprague.

---
What Equipment Do I Need for B-C Webinars?

To participate in Bolchazy-Carducci Publisher sponsored webinars you will need high-speed internet access, computer speakers/headphones, current web browser, and the link to the webinar virtual meeting space, which is provided in your webinar invitation.
Webinars Make for User-Friendly Professional Development

Participation is free. All webinars provide opportunity for participants to ask questions. Learn lots—attend as many presentations as you can. Bolchazy-Carducci Publishers provides documentation for your participation. You can share this with your supervisors. Many webinar presenters provide handouts, etc.