Reggae updates daily

...Follow us

The Outlaw on a Mission Tour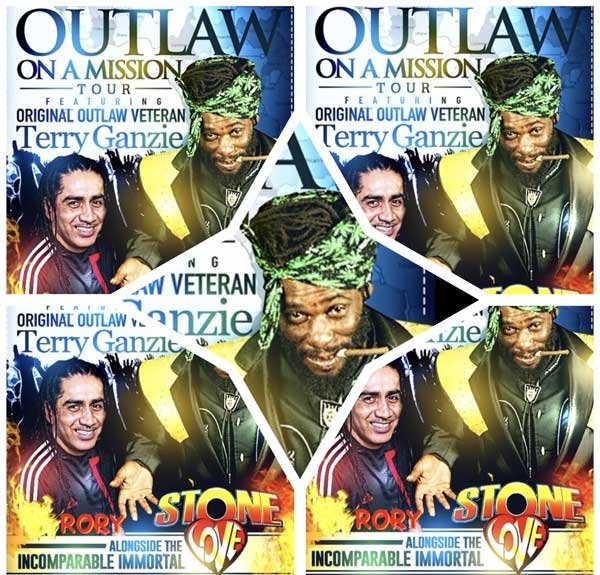 The Outlaw on a Mission Tour featuring Terry Ganzie & Stone Love is NOW available for booking
*Upcoming Release of Terry Ganzie's "Outlaw on a Mission"
NEW
Album will be made available on iTunes, Spotify available worldwide platforms.
Read full article
THE MARLEY CUP The first of its kind, all-day, all-ages Music Festival and Celebrity Soccer Game Saturday, March 31, 2018

Mason di Emperor Now Available for Booking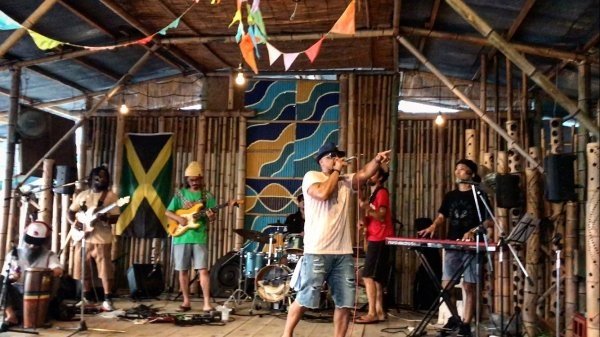 In 2016, authentic Kush civilization was revisited with the release of "Kings and Queens" by Mason di Emperor. On 22 November 2017, further campaigning on the UK legacy of Lover's Rock, a style of reggae noted for its romantic, lover's music; Mason di Emperor releases "Lover's Rock". This album retraces the roots of British Sound System culture and Notting Hill Carnival in the UK while simultaneously paying homage to the origin of Rock Steady brought by Jamaican immigrants from Reggae's birth land.
Read full article
Blue Lake Casino & Hotel proudly presents Jamaican superstar, Tanya Stephens and openers DJ Rundat & Woven Roots -
Blue Lake, CA northern Humboldt County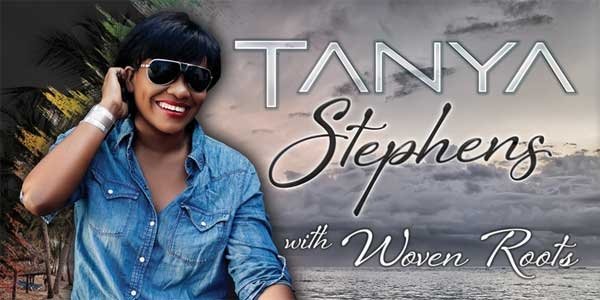 Best known for her hit songs "These Streets," "It's a Pity," and "Yuh Nuh Ready Fi Dis Yet" Stephens is an influential reggae artist that emerged in the late 90's.
Local, Humboldt County favorites, Woven Roots, will be opening the show along with DJ Rundat with their rich roots reggae and dub styles.
$20 Advance | $30 Day Of
Doors at 8pm | Show at 9pm
Sapphire Palace at Blue Lake Casino
Tickets
2018 Artist Tour Availabilities for Festivals, 420 Cannabis Celebrations
& Special Events

Special limited time offer good until March 31,
(can be used anytime but needs to be paid by 3/31 to lock in this deal)
War Uptown Sound Clash in Washington D.C

Jimmy Cliff, Katchafire & More in New Zealand on March 31 at The Bay of Islands Music Festival

The International Reggae Poster Contest, DEADLINE EXTENDED



New deadline date: March 20th, 2018

6th annual call for entries for social communication reggae poster designs.

The goal is simple: create a poster about Reggae Music - the rest is up to your imagination.

Feel free to explore topics of Reggae covering any one of the genres, Ska, Rocksteady, Roots, Dub, Dancehall, or the unique Jamaican Sound system.
In addition, incorporate the contest theme as part of the poster design.

Please avoid stereotypes such as the red-green-gold colours. Try to be original and unique.

The NEW deadline date for submissions is March 20th, 2018.

Website

The Wailing Souls touring Europe!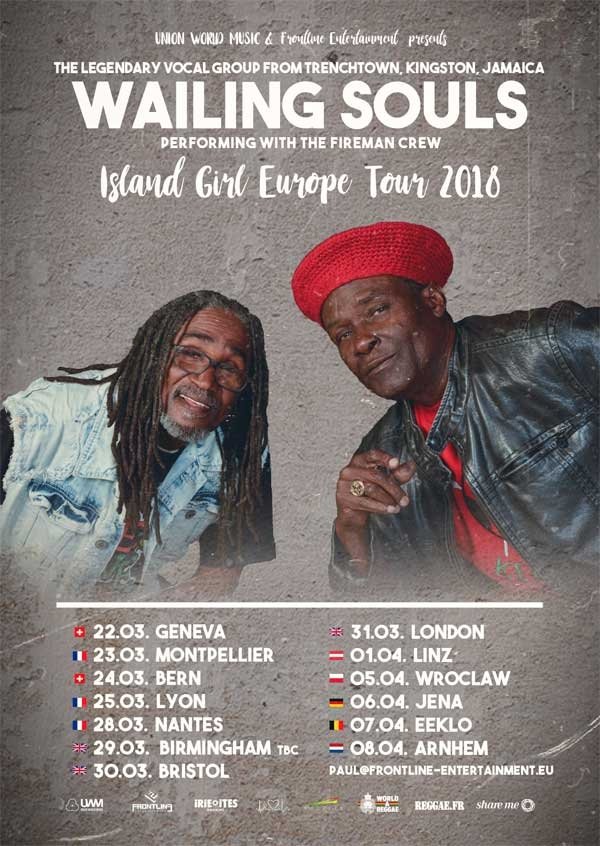 The legendary vocal group from Trenchtown, Kingston, Jamaica - WAILING SOULS - is touring Europe in March and April 2018. The founding memebers - Bread and Pipe - who are active since the mid 60s are back on the road again in Europe and also available for interviews and media dates for magazines, radios, ... etc.
" ... when you see Pipe and Bread of The Wailing Souls you seeing living history ... "
Roger Steffens - Reggae Archivist & Historian

Official online Video EPK CLICK HERE

Prezident Brown & Chezidek - Irie Day Pilgrimage Tour, March, April 2018 - Prez New Album Journeyman Pilgrimage - Chezidek New Album Irie Day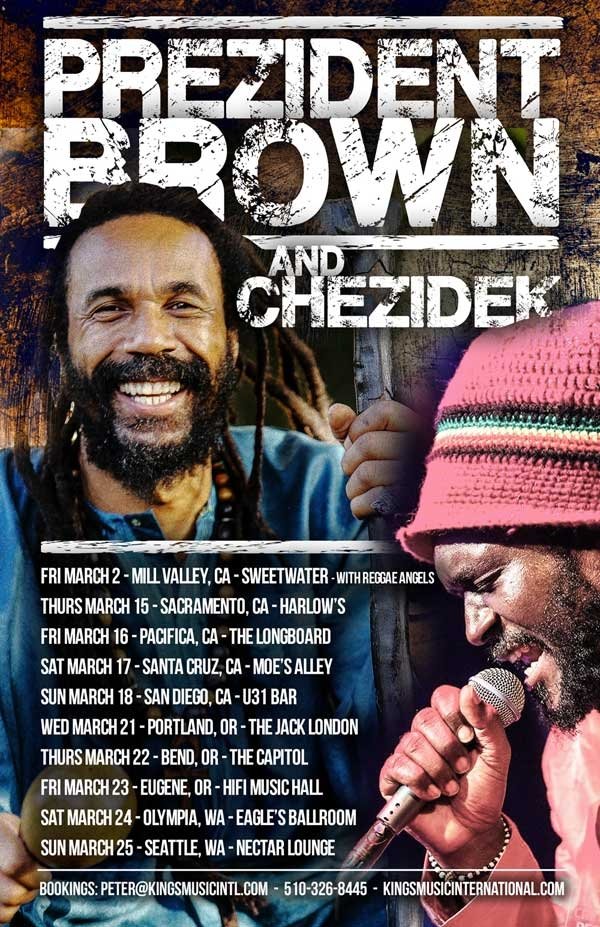 Contact: Peter Wardle, Kings Music International
(510) 326-8445 or Email
Website

In March 2018 Kings Music International is booking an exciting roots and culture package with Prezident Brown and Chezidek. Prezident Brown is a Jamaican roots reggae artist who carries a universal message of love, consciousness and righteousness. Prez is a gifted vocalist who has been focusing on his calling as a singer from an early age. He has never wavered in his focus. Prez has been touring the US consistently for the last decade with his band the I Sound band. Co-billing on this tour is the artist Chezidek who is a roots singer from St. Ann's Bay, Jamaica.

Read full article

JUNIOR REID, YUNG JR & THE ONE BLOOD BAND

- LIVING LEGEND TOUR - FEBRUARY / MARCH 2018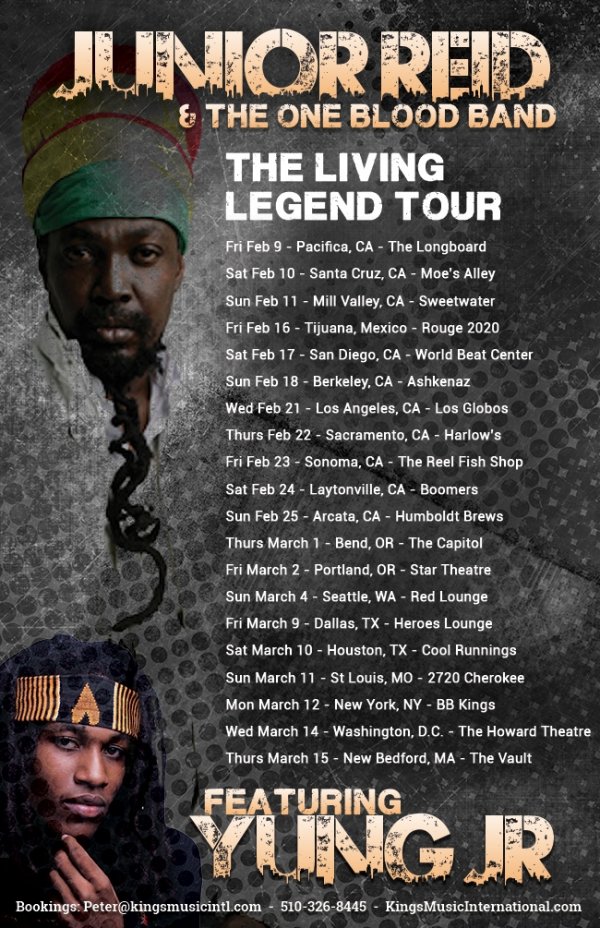 Bookings:

Peter Wardle, Kings Music International
(510) 326-8445 or Email
Office: (510) 653-4069

Fax: (510) 653-5083

The former lead singer of Black Uhuru, with chart topping hits including the monster hits One Blood and This is Why I'm Hot, Junior "One Blood" Reid is a worldwide Reggae/Dancehall Legend, universally loved and respected by fellow artists and fans. At the age of eighteen, Junior was asked to be the lead singer of Black Uhuru. While he was a member, the group was nominated twice for a Grammy Award in the Reggae category. Opening for their father on this February 2018 Living Legend tour is his son - Yung JR. Junior's last album The Living Legend was released in 2016 and he has a new album finished called Kingston, Yard Style scheduled to be released in February 2018.

Sean Paul and Becky G are hot on new David Guetta Riddim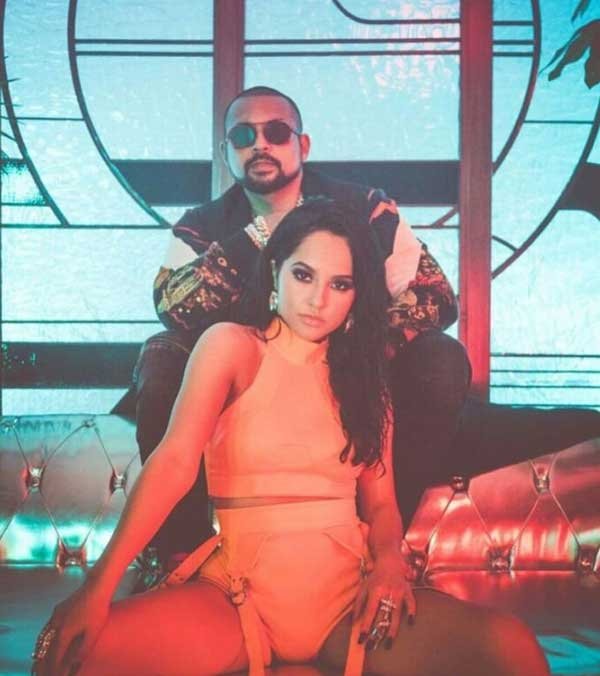 Kingston, Jamaica; Grammy Award winning, Jamaican artiste Sean Paul releases new single Mad Love with American singer/actress Becky G on a dance track produced by David Guetta. This, only days after his I'm Sancitify single with Dancehall artiste Mavado and his self produced Spin It on the Duttyrock Production's Rope Riddim.

Read full article

Curly & Da Uzual Suspects New Single & Video
for 'Dem a Watch We' Out Now!

Empress Akua "Gwaan (Dutty Babylon)" Video Premiere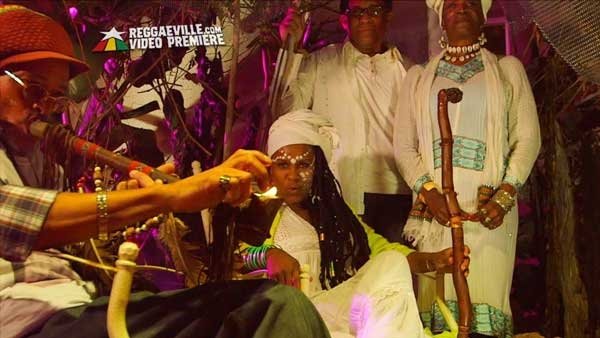 Watch Gwaan (Dutty Babylon)
video
.
Listen, download, view from your preferred
service
.
Empress Akua "Gwaan (Dutty Babylon)" Single Out Now On Issachar Muzik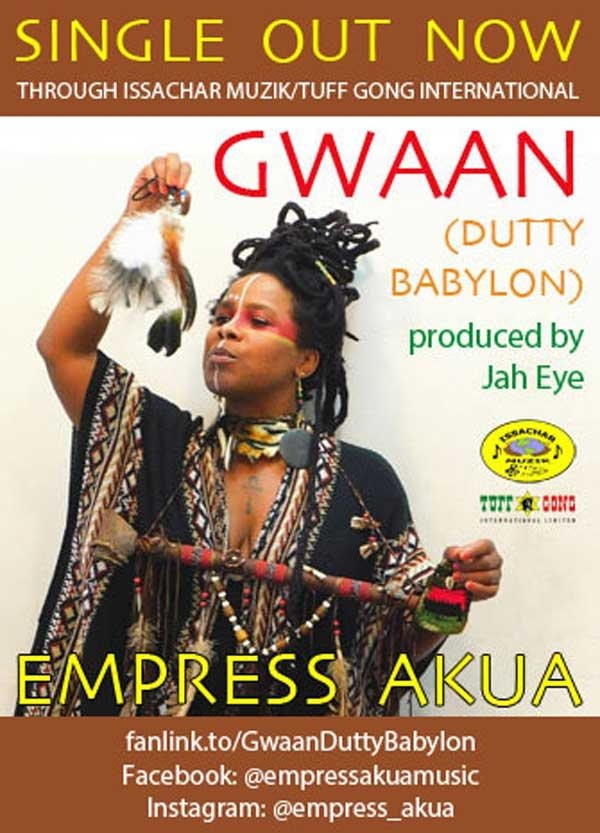 Empress Akua comes with a roots and culture message in the form of a cautionary tale in "Gwaan (Dutty Babylon)" a single produced by Jah Eye and released February 9, 2018 on the Issachar Muzik label distributed through Tuff Gong International. The song is a follow up to her July 2017 single "Its Cold Out There". A heavy bass line sounds the alarm for Empress Akua to invoke a command delivered in Jamaican patois to "gwaan" or go on to the symbolic Babylon, "you can go, but you can't hide."

Reggae Festival Guide/RBA Publishing & Publicity
Is your website outdated or not mobile friendly? Are your social media platforms non-existent or under-utilized? Would you like your name and music to get out there to new reggae fans?
If so, we can help. We have many years of experience in marketing reggae bands and reggae festivals and offer these services and more:

Website consulting, design and maintenance
Social media development (Facebook, Instagram, Twitter, LinkedIn
Create descriptive written content (press releases, band bios, sponsor packages, etc.)
Develop digital marketing strategies to increase your customer base.
Custom Global PR services
If you have questions about what online marketing techniques would work best for you, Give Us a Call Today for a free consultation ~ 707-630-3304 or Email



1995-

2018




Industry Leaders for

Ove

r 24 Years




Hey reggae lovers! Got FACEBOOK?

Then please drop on by and "LIKE" us to get a daily dose of what doesn't always fit here!

"Every moment of your life is infinitely creative and the universe is endlessly bountiful. Just put forth a clear enough request, and everything your heart desires must come to you."

Jamaica Music Countdown March 2-8

On This Day in Reggae - March 8th

1973: Paul McCartney is fined 100 pounds for growing cannabis at his farm on the Mull of Kintyre (Scotland). Paul claims a fan gave him the seeds and he didn't know what they would grow.

1984: "Free Nelson Mandella" is released by Special AKA.

Source

If you missed your latest (or any) copy of the weekly e-Guide,
you can find back issues in the Archives

Upcoming Reggae Festivals

To view our entire calendar of more than 500 festivals, click here!

| | | |
| --- | --- | --- |
| Just Post Your Festival at | | Read the 2017 Reggae Festival Guide magazine in its entirety page-by-page in Digital Format |
Pot Of Gold Music Festival Day 3
Mar-22-2018, Bend, Oregon, USA
Irie Day Pilgrimage Tour Prez/Chez/Zero
Mar-18-2018, Chandler, Arizona, USA
Love & Harmony Cruise
Mar-24-2018 - Mar-29-2018, Fort Lauderdale, Florida, USA
International Dub Gathering
Mar-29-2018 - Mar-31-2018, Bigastro, Spain
Pure Grenada
Apr-13-2018 - Apr-15-2018, St. George's, Grenada
Rosarito Reggae Festival
Apr-21-2018 - Apr-22-2018, Rosarito, Mexico
CariDubai Weekender
Apr-26-2018 - Apr-29-2018, Dubai, United Arab Emirates
Canadian Reggae Music Conference
Apr-27-2018 - Apr-28-2018, Toronto, Ontario, Canada
Kaya Fest
Apr-28-2018 - Apr-29-2018, San Bernardino, California, USA
Panama Utopia Music Fest
Apr-28-2018 - Apr-29-2018, Panama, Panama
Dis Poem Wordz & Agro Festival
Apr-29-2018, Portland, Jamaica
Tmrw.Tday Culture Fest
May-01-2018 - May-06-2018, Los Angeles, California, USA
Kokopelli
May-10-2018 - May-12-2018, Gullegem, Belgium
Edo International Reggae Festival, The
May-11-2018 - May-12-2019, Benin City, Nigeria
Joshua Tree Music Festival 16th Annual Spring
May-17-2018 - May-20-2018, Joshua Tree, USA
Camp Reggae
May-25-2018 - May-27-2018, Turtle twn., Tennessee, USA
Sunshine Reggae Festival
May-25-2018 - May-27-2018, Lauterbourg, France
Kentucky Reggae Festival
May-25-2018 - May-27-2018, Louisville, Kentucky, USA
Positive Vibration - Festival of Reggae 2018
Jun-08-2018 - Jun-09-2018, Liverpool, United Kingdom
Reggae in the Desert - Las Vegas
Jun-09-2018, Las Vegas, Nevada, USA
Rast'Art Festival #9
Jun-15-2018 - Jun-17-2018, Sannerville, France
Victoria's Ska & Reggae Festival 19th Annual
Jun-20-2018 - Jun-24-2018, Victoria , British Columbia, Canada
Sierra Nevada World Music Festival
Jun-22-2018 - Jun-24-2018, Boonville, California, USA
Kuranda Roots Festival
Jun-23-2018 - Jun-24-2018, Kuranda, Cairns, Australia
International Reggae Day Festival
Jul-01-2018, Kingston, Jamaica
Ostroda Reggae Festival
Jul-05-2018 - Jul-08-2018, Ostroda, Poland
African/Caribbean International Festival of Life
Jul-06-2018 - Jul-08-2018, Chicago, Illinois, USA
Summerjam Festival, The 33rd
Jul-06-2018 - Jul-08-2018, Cologne, Germany
Levitate Music & Arts Festival
Jul-07-2018 - Jul-08-2018, Marshfield, Massachusetts, USA
Reggae Sumfest
Jul-15-2018 - Jul-21-2018, Kingston, Jamaica
Dub Camp Festival
Jul-19-2018 - Jul-22-2018, Joué-Sur-Erdre, France
Seasplash Festival
Jul-19-2018 - Jul-22-2018, Pula, Croatia
Oroville Rock Reggae Jamfest
Jul-20-2018 - Jul-22-2018, Oroville, California, USA
Battle Creek Caribbean Festival
Jul-21-2018, Battle Creek, Michigan, USA
Jerk Jam, The
Jul-21-2018 - Jul-22-2018, Fareham, United Kingdom
Bayfront Reggae & World Music Festival, 13th Annual
Jul-21-2018, DULUTH, Minnesota, USA
Iboga Summer Festival
Jul-25-2018 - Jul-29-2018, Tavernes de la Valldigna (beach), Spain
Guitarfish Festival,8th Annual
Jul-26-2018 - Jul-29-2018, Cisco Grove, California, USA
Roots & Culture Reggae Festival
Jul-26-2018 - Jul-30-2018, Latisana (UD), Italy
Summer Vibration Reggae Festival
Jul-26-2018 - Jul-28-2018, Selestat, France
Reggae in Wulf
Jul-27-2018 - Jul-29-2018, Friedberg (Bavaria), Germany
NorthWest World Reggae Festival
Jul-27-2018 - Jul-29-2018, Sandy, Oregon, USA
Black Forest On Fire
Jul-28-2018 - Jul-29-2018, Berghaupten, Germany
Uppsala Reggae Festival
Jul-27-2018 - Jul-28-2018, Uppsala, Sweden
Boomtown Fair
Aug-09-2018 - Aug-12-2018, Bristol, United Kingdom
Rototom Sunsplash
Rototom Sunsplash Aug-16-2018 - Aug-22-2018, BENICASIM, Spain
Rastafest
Aug-18-2018 - Aug-19-2018, Toronto, Ontario, Canada
Charlemont Reggae Festival
Aug-18-2018, Charlemont, Massachusetts, USA
One Love Music Fest
Aug-18-2018, Somerset, New Jersey, USA
Surrounded by the Sound Music & Arts Festival
Aug-30-2018 - Sep-03-2018, Long Creek, South Carolina, USA
Jerk, Seafood & Vegan Fest
Sep-08-2018 - Sep-09-2018, Chicago, Illinois, USA
Soul Rebel Festival, The 17th Annual
Sep-08-2018, Boulder, Colorado, USA
Nigeria Reggae Festival
Sep-29-2018 - Oct-01-2018, Awka, Anambra State, Nigeria
Reggae Wellness
Oct-27-2018 - Oct-28-2018, Port Antonio, Jamaica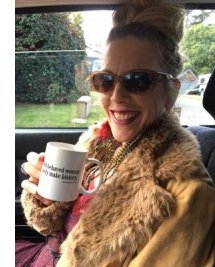 2018 marks the 24th year that Reggae Festival Guide has been the leading media company in the reggae industry.

Our parent company, RBA Publishing & Publicity, is based out of Humboldt County, CA. We produce the annual Reggae Festival Guide magazine, the top-ranking website:

www.ReggaeFestivalGuide

(32,000 unique monthly visitors), and this weekly reggae e-newsletter Reggae e-Guide (40,000 weekly subscribers). We also have 550,000 fans that follow us on Facebook (please

join us

there), and 13K that follow us on Instagram

We offer you many ways to help you get your fix of reggae music, history, lifestyle, current news, and of course, festivals, all year round.

Our publishing company keeps growing and adding elements to bring you trusted coverage of reggae happenings from around the world.

Contact us today if you have any questions or suggestions. We love what we do and look forward to input from you with your suggestions, critiques, questions, etc.

Also contact us to find out how you can promote your band/business/festival in this e-newsletter or on our website.

We also offer Publicity & Graphic Services for bands and festivals:
band bios and interview written, social media management, website consulting design and maintenance, EPKs created, graphics for advertising and social media branded videos, and more. Please contact us to find out how we can help you with your exciting projects.

One Love,
Kaati, Sean, Joana, Goran, Irene, Heather and the rest of our Crew

Information - both editorial and advertising - in the Reggae e-Guide - is believed to be correct but not guaranteed - so check it carefully before you attend any event or send money for anything. We do not write the news, just report it.


707-630-3304 or

email



Distribution by RBA Publishing Inc.

If you wish, and we really wish you wouldn't, like to be removed from this list, please reply with REMOVE in subject line.

It will make us very sad if you do, and perhaps your removal will be the one the makes us decide this no longer worth doing at all, and all the information we provide will go away forever and musicians will sit home alone at night and cry because they have no one to play for because no one knows about their shows.